Walsh in ominous form after practice domination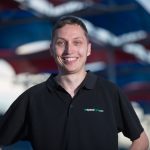 Dunlop Series points leader Ash Walsh set the pace on the opening day of the Coates Hire Ipswich 400.
The Ipswich native didn't disappoint his home crowd as he topped the times in both 40 minute free practice sessions at Queensland Raceway.
Walsh ended the day with a personal best of 1.10.994s which was almost 0.3s clear of Eggleston Motorsport's Paul Dumbrell.
"Practice has been pretty kind to us again today and we rolled out of the truck very well," said Walsh of his day.
"We tuned the Infants' Friend Falcon up continuously across both sessions and it seems all the changes are taking us in the right direction.

"The track will change overnight and it will be cooler tomorrow morning so we will have to guess a little on the set up, but there is no reason why we can't be fighting for a pole position.
"There are guys who can race very hard around me today so if qualifying pans out in a similar way I just have to keep my wits about me and make sure we do the job."
Steven Johnson also impressed at his home circuit as he topped times towards the end of Practice 2.
In the end, he finished the day with the third best effort overall after setting a time good enough for 10th position in the first hit out.
Ford Performance Racing's title contender Cameron Waters set the eighth fastest time having posted his best lap in the first session.
Tim Blanchard wasted little time on his racing return for MW Motorsport as he ended the day in fifth behind Aaron Russell. Andrew Jones was sixth while United Racing's Paul Morris was seventh.
MW Motorsport's Andre Heimgartner and Icebreak Racing's Chris Pither rounded out the top 10.
The sessions were not with out incident as Ben Schoots and Josh Kean caused two red flags in the first session.
A spin for Dan Day at turn three caused a premature halt to the final free practice outing.
Meanwhile, in Aussie Racing Cars Trent Young claimed pole position for this weekend's fourth round of the season.
Young will line up alongside Darren Chamberlin with Brendon Pingel third and championship leader Peter Carr fourth.
James Duckworth had a lucky escape as a nasty gearbox malfunction brought out the red flags.
The Ferrari F430 GTS of Mark Griffiths secured pole position in the Production Sports Cars support category with a time of 1.14.4859s.
Ben Foessel trailed the Ferrari by two tenths of a second in his Porsche 911 and will subsequently join Griffiths on the front row. Scott Taylor was third with the Dodge Viper of Geoff Fane fourth.
Dunlop Series Free Practice 1
| | | | | | |
| --- | --- | --- | --- | --- | --- |
| 1 | Infants Friend | Ashley Walsh | Ford Falcon FG | 1:11.37 | |
| 2 | TEAM ENZED FPR | Cameron Waters | Ford Falcon FG | 1:11.42 | 00.05 |
| 3 | Eggleston Motorsport | Paul Dumbrell | Holden Commodore VE2 | 1:11.68 | 00.30 |
| 4 | A.L.B. Distributors | Andrew Jones | Holden Commodore VE2 | 1:11.82 | 00.45 |
| 5 | Matt Stone Racing | Todd Hazelwood | Ford Falcon FG | 1:11.86 | 00.49 |
| 6 | United Racing | Paul Morris | Ford Falcon FG | 1:11.92 | 00.55 |
| 7 | Finance Ezi/MW Motorsport | Andre Heimgartner | Ford Falcon FG | 1:11.94 | 00.56 |
| 8 | Icebreak Racing | Chris Pither | Holden Commodore VE2 | 1:11.95 | 00.58 |
| 9 | R&J Batteries | Geoff Emery | Holden Commodore VE2 | 1:11.97 | 00.60 |
| 10 | Wilson Security Racing | Steven Johnson | Ford Falcon FG | 1:12.04 | 00.66 |
| 11 | Eggleston Motorsport | Garry Jacobson | Holden Commodore VE2 | 1:12.05 | 00.67 |
| 12 | Go Karts Go/North Side Fire Services | Aaren Russell | Ford Falcon FG | 1:12.18 | 00.80 |
| 13 | Action Racing | Marcus Zukanovic | Ford Falcon fg | 1:12.19 | 00.81 |
| 14 | Image Racing | Jack Le Brocq | Ford Falcon FG | 1:12.22 | 00.84 |
| 15 | Eggleston Motorsport | Ant Pedersen | Holden Commodore VE2 | 1:12.33 | 00.95 |
| 16 | Cool Drive Distribution/MWM | Tim Blanchard | Ford Falcon FG | 1:12.43 | 01.05 |
| 17 | Haber Xcavations/MW Motorsport | Morgan Haber | Ford Falcon FG | 1:12.43 | 01.06 |
| 18 | Dragon Motor Racing | Kristian Lindbom | Holden Commodore VE2 | 1:12.45 | 01.07 |
| 19 | Forpark/Aust Custom Moulders | Matt Hansen | Holden Commodore VE2 | 1:12.78 | 01.41 |
| 20 | Think Holden | Macauley Jones | Holden Commodore VE2 | 1:12.99 | 01.62 |
| 21 | Formula Tech/Interquip Racing | Brett Stewart | Holden Commodore VE2 | 1:13.15 | 01.78 |
| 22 | Gulf Western Oil | Michael Hector | Ford Falcon FG | 1:13.20 | 01.83 |
| 23 | Wynn's/Vili's | Josh Kean | Holden Commodore VE2 | 1:13.38 | 02.00 |
| 24 | Street Fighter | Dan Day | Holden Commodore VE2 | 1:13.50 | 02.13 |
| 25 | Mocomm Communications | Jim Pollicina | Ford Falcon FG | 1:13.57 | 02.19 |
| 26 | Pacific Hoists/Halda Race | Brett Hobson | Holden Commodore VE2 | 1:13.76 | 02.39 |
| 27 | Rev Trans WA/Evolution Custom | Phil Woodbury | Holden Commodore VE2 | 1:13.93 | 02.56 |
| 28 | McGill Motorsport | Aaron McGill | Holden Commodore VE2 | 1:14.13 | 02.75 |
| 29 | Voight Contracting | Aaron Tebb | Holden Commodore VE2 | 1:14.37 | 02.99 |
| 30 | Worldwide Gaming | Ben Schoots | | 1:17.27 | 05.90 |
Dunlop Series Free Practice 2
| | | | | | |
| --- | --- | --- | --- | --- | --- |
| 1 | Infants Friend | Ashley Walsh | Ford Falcon FG | 1:10.99 | |
| 2 | Eggleston Motorsport | Paul Dumbrell | Holden Commodore VE2 | 1:11.28 | 00.28 |
| 3 | Wilson Security Racing | Steven Johnson | Ford Falcon FG | 1:11.35 | 00.36 |
| 4 | Go Karts Go/North Side Fire Services | Aaren Russell | Ford Falcon FG | 1:11.39 | 00.40 |
| 5 | Cool Drive Distribution/MWM | Tim Blanchard | Ford Falcon FG | 1:11.40 | 00.41 |
| 6 | A.L.B. Distributors | Andrew Jones | Holden Commodore VE2 | 1:11.41 | 00.41 |
| 7 | United Racing | Paul Morris | Ford Falcon FG | 1:11.41 | 00.41 |
| 8 | Finance Ezi/MW Motorsport | Andre Heimgartner | Ford Falcon FG | 1:11.43 | 00.43 |
| 9 | Icebreak Racing | Chris Pither | Holden Commodore VE2 | 1:11.49 | 00.50 |
| 10 | Eggleston Motorsport | Garry Jacobson | Holden Commodore VE2 | 1:11.59 | 00.60 |
| 11 | Dragon Motor Racing | Kristian Lindbom | Holden Commodore VE2 | 1:11.64 | 00.64 |
| 12 | Matt Stone Racing | Todd Hazelwood | Ford Falcon FG | 1:11.65 | 00.66 |
| 13 | Image Racing | Jack Le Brocq | Ford Falcon FG | 1:11.73 | 00.74 |
| 14 | TEAM ENZED FPR | Cameron Waters | Ford Falcon FG | 1:11.77 | 00.78 |
| 15 | Think Holden | Macauley Jones | Holden Commodore VE2 | 1:11.82 | 00.83 |
| 16 | Haber Xcavations/MW Motorsport | Morgan Haber | Ford Falcon FG | 1:11.91 | 00.91 |
| 17 | Eggleston Motorsport | Ant Pedersen | Holden Commodore VE2 | 1:11.99 | 00.99 |
| 18 | R&J Batteries | Geoff Emery | Holden Commodore VE2 | 1:12.17 | 01.18 |
| 19 | Action Racing | Marcus Zukanovic | Ford Falcon fg | 1:12.54 | 01.55 |
| 20 | Street Fighter | Dan Day | Holden Commodore VE2 | 1:12.68 | 01.69 |
| 21 | Forpark/Aust Custom Moulders | Matt Hansen | Holden Commodore VE2 | 1:12.95 | 01.95 |
| 22 | Mocomm Communications | Jim Pollicina | Ford Falcon FG | 1:13.12 | 02.13 |
| 23 | Gulf Western Oil | Michael Hector | Ford Falcon FG | 1:13.12 | 02.13 |
| 24 | Formula Tech/Interquip Racing | Brett Stewart | Holden Commodore VE2 | 1:13.17 | 02.18 |
| 25 | Wynn's/Vili's | Josh Kean | Holden Commodore VE2 | 1:13.23 | 02.24 |
| 26 | McGill Motorsport | Aaron McGill | Holden Commodore VE2 | 1:13.43 | 02.44 |
| 27 | Rev Trans WA/Evolution Custom | Phil Woodbury | Holden Commodore VE2 | 1:13.45 | 02.45 |
| 28 | Pacific Hoists/Halda Race | Brett Hobson | Holden Commodore VE2 | 1:14.61 | 03.61 |
| 29 | Voight Contracting | Aaron Tebb | Holden Commodore VE2 | 1:14.67 | 03.68 |