Red Bull perplexed after 'misleading' test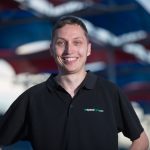 Red Bull team manager Mark Dutton says that his squad is on the back foot following a difficult opening day of practice at Queensland Raceway.
The reigning champion team spent two of the three 20 minute practice sessions working on setup information accrued from a recent test day at the venue, which they thought would achieve sizeable performance gains for their Holden Commodores.
However, after drivers Jamie Whincup and Craig Lowndes failed to break into the top 10 in the opening two sessions, the plan was abandoned costing the team valuable tuning time for this weekend's Coates Hire Ipswich 400.
While Whincup and Lowndes made improvements in the final practice outing to finish in eighth and 11th respectively, Dutton admits that there is plenty of work required to make up for the lost time.
"We are definitely on the back foot compared to other teams," Dutton told Speedcafe.com.
"The times today are true, none of that information is false.
"Everyone ran green tyres at the end so they are legitimate times.
"We didn't have worse tyres and there are no reasons why we are down that far.
"We lost some tuning time through by our own choice and so we are little bit behind in that regards.
"The hard thing when you test here is you can get misled because you are testing tyres that are worse than you always run on and track conditions are different.
"The big thing to remember when you come here is to treat it like a standard race meeting which is easier said than done.
"For Practice 3 we turned the car into something more conventional and it started to react to the changes well.
"We have had one session to tune the car whereas everyone else has had three now.
"You always question did we do the right thing but there was enough reward if it came off."
Although Whincup and Lowndes were unable to match the pacesetting Volvo of Scott McLaughlin, Dutton is confident his team can turn their fortunes around and is not predicting wholesale changes overnight.
However, one area the team will be focussing on is their performance on soft tyres which has been an issue all season.
"We have been trying a few things this year and you can see we haven't been that strong on Fridays, but we have been stronger throughout the weekend so hopefully that will happened again," added Dutton.
"We haven't been as strong as we'd like to be on soft tyres. On the hard tyres we have been very good but we are working hard to make the soft tyres work on the race car. We have got to work on
the race longevity with the tyres.
"It doesn't have to be a radical change in setup but when you are trying to achieve those hundredths of tenths and go for the win its one of those things. Its all very tricky when you are working with small margins."