Rejuvenated Stanaway thought career was over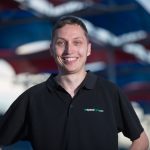 New Zealander Richie Stanaway says he is extremely grateful to be challenging for the GP3 title this year having come perilously close to calling time on his motor racing career.
The 22-year-old from Tauranga has thrusted himself back onto the world motorsport scene this season by emerging as an early title contender after recording his first GP3 race win for three years at Silverstone earlier this month.
Stanaway's single-seater career stalled in 2012 when he broke his back in an aerial Formula Renault 3.5 crash at Spa Francorhamps.
The accident ruled him out for the remainder of the season and threatened to end his single seater career after being forced to switch to sportscars with Aston Martin Racing last season.
The Kiwi completed an unlikely comeback by returning to the top step on the podium at Silverstone.
So convinced he had competed in his last single seater race, Stanaway enrolled himself into university in New Zealand just days before Status GP handed the former German Formula 3 champion a coveted GP3 drive.
"Every time I grid up it feels quite surreal to be back in this environment again," Stanaway told Speedcafe.com.
"I didn't think I would ever get back to single-seaters I thought it was curtains closed.
"I was only planning on doing five one off events with Aston Martin Racing in the World Endurance Championship this year and nothing serious so I thought it was game over to be honest.
"I had already made peace with that so to have the opportunity to come back is unexpected and I'm really grateful."
Having secured a second chance to achieve his dream to become a professional racing driver, Stanaway admits his mindset has changed for the better which he feels has been reflected by his results.
His Silverstone victory has moved him to third in the championship standings behind Red Bull Junior Alex Lynn and Swede Jimmy Eriksson.
"My outlook is a lot different now and if anything it is a little better because two years ago I was less mature and I was always thinking about what I was going to do the next year," said Stanaway.
"Now I don't really think about my future I just race one race at a time.
"I'm pretty relaxed about the whole thing to be honest because I already know what it is like to be thrown out of the sport.
"But I'm hoping we can take the GP3 championship down to the wire.
"I think the ultimate goal is to have a career as a professional driver and if I can achieve that I will be pretty happy.
"It goes without saying GP3 is a stepping stone to F1 but whether that is attainable is a different story and it is out of my control."
Stanaway heads to familiar surroundings of Germany's Hockenheim for the fourth round of the season this weekend.
Having starred at the circuit in German F3, he hopes the extra knowledge can give him an edge.
"In Hockenheim I've done a lot of German F3 so I feel a little bit more at home there," added Stanaway.
"I can only imagine that we will be in a pretty good position but its a competitive championship so you never know what can happen."