Franchitti: Ricciardo is world champion material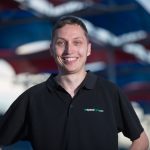 Daniel Ricciardo has all the skills required to win a Formula 1 world championship and enjoy a successful career at the pinnacle of motorsport, says four-time IndyCar champion Dario Franchitti.
The legendary Scottish driver witnessed Ricciardo produce one of his best drives of the season to finish third in the British Grand Prix for his fourth podium of the campaign.
This year Ricciardo has more than responded to the question marks surrounding his promotion to Red Bull from Toro Rosso, with the Western Australian lying third in the championship standings.
He is also the only non Mercedes driver to win a race after recording a maiden victory at the Canadian Grand Prix.
After such an explosive start to his career at Red Bull, three-time Indy 500 winner Franchitti has admitted he has been blown away by the Australian's performances and is confident the Aussie can be a world champion in the future.
"He has a very bright future in this sport," Franchitti told Speedcafe.com.
"I would be delighted to see him win a load of races and fingers crossed a world a championship at some point.
"I bumped in to him at the start of the year while I was at the gym and we had a good chat.
"First, he is a lovely guy and a breath of fresh air but as a driver, my God, he is getting the job done.
"I was so happy for him when he got that first win in Canada. He is doing the job and he is not in the easiest car to drive.
"The fact he is relaxed in his personality is one thing which is great but its ultimately what he does in the car and he just does it. I can't praise him highly enough."
Franchitti's thoughts are echoed by former F1 driver and Le Mans 24 Hours winner David Brabham.
The youngest son of three-times F1 world champion Sir Jack Brabham has been particularly impressed by how the 25-year-old has carried himself stepping up to the Red Bull team alongside reigning world champion Vettel.
Brabham believes Ricciardo's apprenticeship at Hispania and Toro Rosso has given him the edge over Vettel as Red Bull have struggled to extract the pace required to dominate the sport with a troublesome RB10.
"What he is doing is delivering in a high pressure environment and if he stays with Red Bull for a few years there is no reason why he couldn't win a world championship," Brabham told Speedcafe.com.
"Its an interesting discussion as to why he has been able to go into essentially Vettel's team and actually be the more dominant driver.
"I think the years in Toro Rosso with a car that wasn't so easy to drive I think has actually helped him here, whereas Vettel has had more of a perfect car in his career.
"Seb is the perfect driver to get a perfect performance from a really good car."
With Ricciardo's stock rapidly rising on a global stage, Brabham hopes the Red Bull racer's success can inspire the next wave of young Australian drivers.
"I think when you have a driver from a country, say Daniel and Australia in this case doing well in Formula 1, I think it influences so many young people that may think about wanting to go into racing," added Brabham.
"They may not reach F1 but it is that little inspirational spark that goes off in someone.
"He is a great ambassador for Australia right now."