Ricciardo relishing Vettel battle in Hockenheim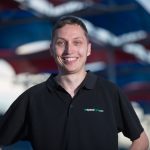 Daniel Ricciardo says he is relishing the prospect of an improved showing from Sebastian Vettel on his home soil at the German Grand Prix later this month.
The Western Australian has outperformed his illustrious four-time world champion team-mate in both qualifying and races with Ricciardo sitting third in the championship standings.
Vettel has struggled to get to grips with the 2014 spec RB10 scoring just two podiums to Ricciardo's four, which includes the Aussie's impressive victory at the Canadian Grand Prix.
Although the Australian finished ahead of Vettel with a third in the British Grand Prix, the reigning world champion showed signs he is beginning to find his rhythm behind the wheel of the RB10.
With Vettel's home race at Hockenheim looming, Ricciardo is eagerly anticipating a much stronger challenge from his team-mate, which he feels will extract even more pace from himself.
"I'm not sure what the word is, improve or get better because Sebastian is already really good, but I'm sure his form is going to come," said Ricciardo when asked by reporters including Speedcafe.com if he was expecting a stronger challenge from Vettel in Germany.
"I'm sure he is going to be really hungry in Germany.
"For me it just a case of keep doing what I'm doing.
"Obviously I'm excited if there is a bit more in him (Vettel) because I think that will bring out a bit more in both of us.
"In Germany Seb will be hungrier than ever so I'm sure it will be a good battle."
Meanwhile, Ricciardo was relatively pleased with the results from the first day of testing at Silverstone, having set the second fastest time just six thousandths adrift of the pace setting Williams of Felipe Massa.
His Red Bull team spent the day conducting extensive aerodynamic tests while trying to extract a more performance from the Renault power plant.
"It was pretty successful because we were expected rain and that would have limited our running. We had a bit of a late start but we did manage to get a bit done," added Ricciardo.
"There was quite a lot of aero testing and bits and piece on the car and a lot of it was for the guys at the factory to look at.
"We are constantly trying to find more but we are not going to find tons of horse power overnight.
"All the improvements we find will be subtle.
"To be honest as a driver the subtle stuff is harder to feel. Its positive but we have just a lot of stuff for engineers to look at hopefully we get some results from it."