Ricciardo: Silverstone podium one of my best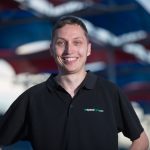 Daniel Ricciardo felt his battling drive to third place in the British Grand Prix was one of his best in Formula 1 having had to recover from a mistake in qualifying.
The Western Australian produced yet another mature performance as he made a one stop strategy work in his favour to claim his fourth Formula 1 podium of the season.
After deciding against a final run in qualifying which saw the Red Bull driver qualify only eighth, Ricciardo revealed he was focussed on redeeming himself in Sunday's race.
Having had to battle his way through the field with a car which struggled to match the pace of both Mercedes and Williams, the 25-year-old described the result as one of his best.
"I had redemption on my plate after a pretty poor Saturday and this is definitely one of my best podiums," said Ricciardo.
"This is the best third place I've ever got.
"I'm not normally ecstatic with a third but I really am obviously to redeem myself from Saturday and also the fact that I don't think we had an awesome race car, but we made it work.
"We used the cards that we had and played the game well, so I was really happy to make a one stop work."
While pleased with the podium, he admitted another lap would have probably seen him lose the position to the hard charging McLaren of Jenson Button.
"For the last two laps, I saw Jenson coming and thought I was probably going to be a bit vulnerable but we held on," added Ricciardo.
Ricciardo remains third in the championship standings after once again outperforming his illustrious four time world champion team-mate Sebastian Vettel who finished fifth.