Raikkonen may miss Silverstone test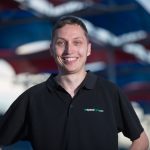 Kimi Raikkonen could be set to miss this week's Silverstone test after suffering a high speed crash during the British Grand Prix.
The Finn was lucky to escape an opening lap accident which saw him slam into the barriers after losing control of his car at Aintree corner.
Raikkonen required help to exit the car but the team have revealed he avoided any serious injuries from the impact measured at 47G. After a routine medical check up, it is understood he is suffering from bruising.
The crash suspended the race for an hour while repairs were made to the barrier struck by the Ferrari.
The 2007 world champion is due to take part in the two day test at the Northamptonshire circuit on Wednesday.
However, Ferrari boss Marco Mattiacci has hinted his driver may sit out the test to recover although no official decision has been taken.
"The most important news right now is that Kimi is alright, even though the impact with the barriers was a heavy one.
"He has some bruising and will now be resting to be in shape for the next race.
"We checked several times and I think that we are taking a decision about what to do with the test
"So we still have to take a decision. I want to be 100 per cent sure that he's super fine, but no major issue at the moment."