Hamilton takes blame for qualifying error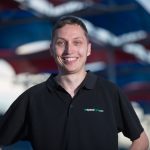 Lewis Hamilton has admitted it was his mistake to abort a final run in qualifying which cost him pole position for the British Grand Prix.
The Mercedes driver held provisional pole for the majority of a session dominated by tricky changeable conditions only to end up sixth on the grid after electing to abort his final lap on a drying track.
His decision to pull out of the lap proved costly as team-mate and title rival Nico Rosberg stormed to pole position with a lap 3.4 seconds quicker than the Brit's personal best.
As a result, Red Bull's Sebastian Vettel, McLaren's Jenson Button, Force India's Nico Hulkenberg and rookie Kevin Magnussen all took advantage of a dry final sector to qualify ahead of Hamilton.
"I made a mistake and pulled out of the lap when I should have kept going," said Hamilton.
"It was a tough qualifying with the changing conditions and we got through most of it really well, until the most important part.
"It was my decision, a bad call, and that decided my qualifying."
With a growing weight of expectation from fans on Hamilton's shoulders ahead of his home race, the 2008 world champion has apologised to supporters and is eager to atone for his mistake on Sunday.
"I'm so sorry to have disappointed the fans here today as their support has been fantastic and I'll do what I can to have a great race for them, added Hamilton.
"I need to have a start like I had in Austria two weeks ago and then do my best to get back to the front; you never know what might happen.
"It's difficult when you're just out of the car to express your emotions and see the positive but I'll go back to the team and my family now and we'll build up for tomorrow from there."