Evans hopes maiden win will turn F1 heads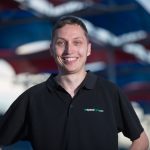 GP2 race winner Mitch Evans says his breakthrough victory will help lay down a marker to Formula 1 teams as he bids to further his single seater career.
The 20-year-old New Zealander recorded his maiden victory in the F1 feeder series with an impressive drive to hold off championship leader Jolyon Palmer at Silverstone.
Evans has been steadily growing a reputation as rising star after winning the GP3 championship in 2012, before moving to GP2 last year with Arden.
The Auckland ace, who has threatened for victories on a number of occasions in GP2, admitted his triumph in England comes as a huge relief after describing the last 18 months as the toughest of his career.
Bouyed by the achievement, he hopes the victory will place him firmly on the radar of the F1 paddock.
"Its not just good for my own GP2 campaign but my name goes out a lot further and to the F1 teams with this victory," Evans told Speedcafe.
"Jolyon Palmer has been the strongest all year and to out race him has given me confidence.
"I have to give it 110 percent to make my career go further in Europe and its moments like this that really help you.
"It feels as though so much weight has been lifted off me. The past 18 months has been the hardest of my career.
"I will look back on this day and realise how big an achievement this is. I just want to thank everyone who has helped me get here.
"Now I have go the monkey off my back I can start producing these results more often. I need to build the momentum from here.
Evans also paid tribute to his former F1 star mentor Mark Webber revealing his support has been crucial in dealing with moments where he has questioned his own ability.
The Russian Time driver said it was particularly emotional to win in front of the nine-time grand prix winner.
"Mark knows how hard I have worked over the past four years," added Evans.
"He really believes in me which gives me confidence but you still have to deliver those results.
"Its days like this that remind me why people like Mark are supporting me because you have dark days when you question whether you re good enough, but I have proved I can do this and will try to make a name for myself."
Evans will start from eighth on the grid for the GP2 sprint race at Silverstone.