Vettel heads Ricciardo in final practice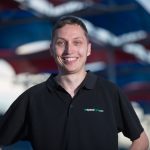 Sebastian Vettel pipped Daniel Ricciardo in the final free practice session held in tricky wet conditions at Silverstone.
The Red Bull team confirmed their strong wet weather setup with Vettel heading his Australian team-mate by just over a tenth of a second.
Lotus issued a surprise with Pastor Maldonado third just ahead of his opposite number Romain Grosjean.
Adrian Sutil was fifth for Sauber with Toro Rosso's Daniil Kvyat sixth fastest.
Both Nico Rosberg and Lewis Hamilton were stationed in the garage for the majority of the session in a bid to save tyres for qualifying, which is expected to be held in wet conditions.
The pair failed to register a flying lap and banked just nine laps between them.
Ferrari's Fernando Alonso followed Mercedes' strategy recording four installation laps.
Heavy persistent rain in the morning ensured track conditions were particularly tricky with several drivers enduring nervy moments on track.
Ricciardo looked comfortable in the wetas he led the session at the halfway mark before he was edged by Vettel in the final quarter of the session.
McLaren proved to be the top Mercedes runners with Kevin Magnussen seventh and Jenson Button eighth.
Williams' Valtteri Bottas was ninth with Ferrari's Kimi Raikkonen rounding out the top 10.
The only driver to be caught out by the slippery track surface was Marussia's Jules Bianchi who suffered a session ending trip into the gravel trap at Stowe.
Formula 1 British Grand Prix Free Practice 3 Results
| | | | | | |
| --- | --- | --- | --- | --- | --- |
| Position | Driver | Team | Time | Gap | Laps |
| 1 | Sebastian Vettel | Red Bull-Renault | 1:52.522s | |  6 |
| 2 | Daniel Ricciardo | Red Bull-Renault | 1:52.631s | +0.109s |  6 |
| 3 | Pastor Maldonado | Lotus-Renault | 1:53.044s | +0.522s | 10 |
| 4 | Romain Grosjean | Lotus-Renault | 1:53.566s | +1.044s |  6 |
| 5 | Adrian Sutil | Sauber-Ferrari | 1:53.585s | +1.063s | 12 |
| 6 | Daniil Kvyat | Toro Rosso-Renault | 1:53.654s | +1.132s | 15 |
| 7 | Kevin Magnussen | McLaren-Mercedes | 1:53.911s | +1.389s |  5 |
| 8 | Jenson Button | McLaren-Mercedes | 1:54.041s | +1.519s |  6 |
| 9 | Valtteri Bottas | Williams-Mercedes | 1:54.217s | +1.695s |  4 |
| 10 | Kimi Raikkonen | Ferrari | 1:54.558s | +2.036s |  5 |
| 11 | Jean-Eric Vergne | Toro Rosso-Renault | 1:54.602s | +2.080s |  6 |
| 12 | Esteban Gutierrez | Sauber-Ferrari | 1:54.761s | +2.239s | 13 |
| 13 | Felipe Massa | Williams-Mercedes | 1:55.003s | +2.481s |  4 |
| 14 | Nico Hulkenberg | Force India-Mercedes | 1:55.688s | +3.166s |  6 |
| 15 | Sergio Perez | Force India-Mercedes | 1:56.918s | +4.396s |  7 |
| 16 | Marcus Ericsson | Caterham-Renault | 1:57.091s | +4.569s | 10 |
| 17 | Jules Bianchi | Marussia-Ferrari | 1:57.566s | +5.044s |  6 |
| 18 | Kamui Kobayashi | Caterham-Renault | 1:57.914s | +5.392s | 10 |
| 19 | Max Chilton | Marussia-Ferrari | | |  1 |
| 20 | Fernando Alonso | Ferrari | | |  4 |
| 21 | Nico Rosberg | Mercedes | | |  4 |
| 22 | | Mercedes | | |  5 |