Rosberg storms to Silverstone pole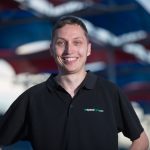 Nico Rosberg made the most of a last gasp effort to secure pole position for the British Grand Prix after coming through an eventful qualifying session.
Changeable weather conditions played havoc for the teams but it failed to disrupt Rosberg as he blitzed a drying circuit on his final run to grab pole.
The championship leader final lap was 1.6s quicker than Red Bull Racing's Sebastian Vettel while Jenson Button gave the home crowd something to cheer in third for McLaren.
Lewis Hamilton had held provisional pole for the majority of Q3 but a decision not to complete a final run on slick tyres saw him demoted to sixth. The Brit was a full three seconds slower than his team-mate.
Nico Hulkenberg was fourth for Force India ahead of McLaren's Kevin Magnussen while Australia's Daniel Ricciardo was eighth behind Sergio Perez.
Meanwhile, Ferrari and Williams delivered the biggest shock as they were eliminated in the first part of qualifying held in damp and drizzly conditions
Both teams were caught by rivals changing to slick tyres on a drying track, which forced them into a late change of rubber at the end of Q1.
Aided by yellow flags caused by Adrian Sutil's spin, the Williams duo of Valtteri Bottas and Felipe Massa were unable to set a time on the fresh rubber, leaving them 17th and 18th in Q1.
A spin ended Fernando Alonso's hopes meaning he will start from 19th position alongside team-mate Kimi Raikkonen, who was also a casualty of the late tyre change.
Toro Rosso's Daniil Kvyat and Jean-Eric Vergne rounded out the top 10 while Lotus' Romain Grosjean just missed out on place in Q3 and will start from 11th position.
Marussia enjoyed their best qualifying performance of the season with Jules Bianchi and Max Chilton making the most of the unpredictable conditions to earn 12th and 13th spots on the road.
However, Chilton will start from 18th after incurring a five place grid penalty for a gearbox change.
The Caterhams of Kamui Kobayashi and Marcus Ericsson failed to progress to Q2 and will start from 20th and 21st on the grid.
Esteban Gutierrez will start from last despite finishing 14th in the session due to a 10 place grid penalty he carries into this race.
Formula 1 British Grand Prix Qualifying Results 
| | | | | |
| --- | --- | --- | --- | --- |
| Position | Driver | Team | Time | Gap |
| 1 | Nico Rosberg | Mercedes | 1m35.766s | |
| 2 | Sebastian Vettel | Red Bull-Renault | 1m37.386s | +1.620s |
| 3 | Jenson Button | McLaren-Mercedes | 1m38.200s | +2.434s |
| 4 | Nico Hulkenberg | Force India-Mercedes | 1m38.329s | +2.563s |
| 5 | Kevin Magnussen | McLaren-Mercedes | 1m38.417s | +2.651s |
| 6 | Lewis Hamilton | Mercedes | 1m39.232s | +3.466s |
| 7 | Sergio Perez | Force India-Mercedes | 1m40.457s | +4.691s |
| 8 | Daniel Ricciardo | Red Bull-Renault | 1m40.606s | +4.840s |
| 9 | Daniil Kvyat | Toro Rosso-Renault | 1m40.707s | +4.941s |
| 10 | Jean-Eric Vergne | Toro Rosso-Renault | 1m40.855s | +5.089s |
| 11 | Romain Grosjean | Lotus-Renault | 1m38.496s Q2 | +3.626s |
| 12 | Jules Bianchi | Marussia-Ferrari | 1m38.709s Q2 | +3.839s |
| 13 | Max Chilton | Marussia-Ferrari | 1m39.800s Q2 | +4.930s |
| 14 | Esteban Gutierrez | Sauber-Ferrari | 1m40.912s Q2 | +6.042s |
| 15 | Pastor Maldonado | Lotus-Renault | 1m44.018s Q2 | +9.148s |
| 16 | Adrian Sutil | Sauber-Ferrari | no time Q2 | |
| 17 | Valtteri Bottas | Williams-Mercedes | 1m45.318s Q1 | +4.938s |
| 18 | Felipe Massa | Williams-Mercedes | 1m45.695s Q1 | +5.315s |
| 19 | Fernando Alonso | Ferrari | 1m45.935s Q1 | +5.555s |
| 20 | Kimi Raikkonen | Ferrari | 1m46.684s Q1 | +6.304s |
| 21 | Marcus Ericsson | Caterham-Renault | 1m49.421s Q1 | +9.041s |
| 22 | Kamui Kobayashi | Caterham-Renault | 1m49.625s Q1 | +9.245s |