Hamilton fastest despite power issue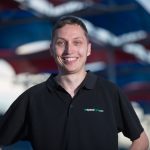 Lewis Hamilton ended Friday free practice at the top of the timesheets despite encountering an mechanical problem in the final session of the day at Silverstone.
The Mercedes driver ended the session with a personal best of 1.34.508s which was two tenths quicker than team-mate Nico Rosberg.
While Mercedes remained in a class of their own, Fernando Alonso continued to show encouraging signs for Ferrari in third.
Australia's Daniel Ricciardo was fourth as he once again outperformed his world champion team-mate Sebastian Vettel, who was fifth fastest.
Although he ended the session fastest, Hamilton was forced to spend the final minutes of practice in the garage after his W05 came to a halt at the Loop with a drive issue.
Despite the problem robbing him of his final run, the 2008 world champion is confident the issue will not hold him back this weekend.
The car felt pretty good here but unfortunately I lost my most important run of the day this afternoon when I stopped out on track with an engine problem, said Hamilton.
"We haven't identified what the issue was yet but it shouldn't impact the rest of my weekend. We will change my programme around tomorrow morning to try and recover the time that I lost and make sure that I can complete my race preparation with a long run.
"It's not ideal but we'll recover."
Williams' day finished on a high note as Valtteri Bottas ended the session in sixth although he was 1.508s off the pace of the front running Mercedes. The Finn incurred damage to his engine cover during the hit out.
Jenson Button was seventh for McLaren ahead of his team-mate Kevin Magnussen with Kimi Raikkonen ninth.
Toro Rosso's Jean-Eric Vergne rounded out the top 10 despite an off caused by a loose front left wheel.
Formula 1 British Grand Prix Free Practice 2 Results  
| | | | | | |
| --- | --- | --- | --- | --- | --- |
| Position | Driver | Team | Time | Gap | Laps |
| 1 | Lewis Hamilton | Mercedes | 1:34.508s | | 14 |
| 2 | Nico Rosberg | Mercedes | 1:34.736s | +0.228s | 35 |
| 3 | Fernando Alonso | Ferrari | 1:35.244s | +0.736s | 32 |
| 4 | Daniel Ricciardo | Red Bull-Renault | 1:35.511s | +1.003s | 11 |
| 5 | Sebastian Vettel | Red Bull-Renault | 1:35.627s | +1.119s | 27 |
| 6 | Valtteri Bottas | Williams-Mercedes | 1:36.016s | +1.508s | 33 |
| 7 | Jenson Button | McLaren-Mercedes | 1:36.228s | +1.720s | 34 |
| 8 | Kevin Magnussen | McLaren-Mercedes | 1:36.299s | +1.791s | 35 |
| 9 | Kimi Raikkonen | Ferrari | 1:36.554s | +2.046s | 29 |
| 10 | Jean-Eric Vergne | Toro Rosso-Renault | 1:36.583s | +2.075s | 26 |
| 11 | Felipe Massa | Williams-Mercedes | 1:36.671s | +2.163s | 29 |
| 12 | Daniil Kvyat | Toro Rosso-Renault | 1:36.778s | +2.270s | 31 |
| 13 | Esteban Gutierrez | Sauber-Ferrari | 1:36.951s | +2.443s | 35 |
| 14 | Pastor Maldonado | Lotus-Renault | 1:37.064s | +2.556s | 35 |
| 15 | Romain Grosjean | Lotus-Renault | 1:37.097s | +2.589s | 33 |
| 16 | Sergio Perez | Force India-Mercedes | 1:37.236s | +2.728s | 37 |
| 17 | Nico Hulkenberg | Force India-Mercedes | 1:37.449s | +2.941s | 27 |
| 18 | Adrian Sutil | Sauber-Ferrari | 1:37.520s | +3.012s | 25 |
| 19 | Jules Bianchi | Marussia-Ferrari | 1:38.658s | +4.150s | 11 |
| 20 | Kamui Kobayashi | Caterham-Renault | 1:39.068s | +4.560s | 31 |
| 21 | Max Chilton | Marussia-Ferrari | 1:39.224s | +4.716s | 28 |
| 22 | Marcus Ericsson | Caterham-Renault | 1:39.762s | +5.254s | 21 |