Evans in position to fight for maiden win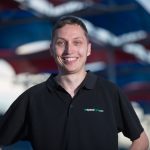 GP2 racer Mitch Evans is confident he can record a maiden victory in the series after starring in qualifying at Silverstone.
The Auckland ace will start Saturday's feature race from third on the grid after being pipped to pole position by Ferrari junior driver Raffaele Marciello.
Just 0.039s covered the top four with Evans only 33 hundredths adrift of Marciello's pole time. Championship leader Joylon Palmer claimed the final place on the front row.
The 19-year-old looked odds on to record his maiden GP2 victory at Silverstone last year before a pit lane speeding penalty forced him to surrender a healthy lead.
Having yet to record a victory in the Formula 1 feeder series, the 19-year-old believes he has a great chance to end his winless run this weekend.
"I think we have got a really good chance of victory and it a bit of relief as we didn't look too good in practice," Evans told Speedcafe.
"There was a little bit of a question mark over the car before qualifying but it went really well and I put a nice lap together but it wasn't quite enough.
"I hope that win is going to come but you can never force these things. Its been really frustrating to go this far in the championship and not win a race and bit painful to be honest.
"I was very close to winning this race last year but I think I have got a much better package this year. It will be interesting to see how everyone performs on both tyres.
"You cannot plan these GP2 race this season."
Evans is eighth in the GP2 standings heading into this weekend's fifth round of the championship.
GP2 Series Silverstone Qualifying Results
| | | | | |
| --- | --- | --- | --- | --- |
| Position | Driver | Team | Time | Gap |
| 1 | Raffaele Marciello | Racing Engineering | 1:40.445s | |
| 2 | Jolyon Palmer | DAMS | 1:40.472s | +0.027 |
| 3 | Mitch Evans | Russian Time | 1:40.478s | +0.033 |
| 4 | Julian Leal | Carlin | 1:40.484s | +0.039 |
| 5 | Stoffel Vandoorne | ART | 1:40.646s | +0.201 |
| 6 | Felipe Nasr | Carlin | 1:40.658s | +0.213 |
| 7 | Marco Sorensen | MP | 1:40.658s | +0.213 |
| 8 | Stephane Richelmi | DAMS | 1:40.762s | +0.317 |
| 9 | Johnny Cecotto Jr | Trident | 1:40.845s | +0.400 |
| 10 | Daniel Abt | Hilmer | 1:40.880s | +0.435 |
| 11 | Stefano Coletti | Racing Engineering | 1:40.885s | +0.440 |
| 12 | Arthur Pic | Campos | 1:40.961s | +0.516 |
| 13 | Simon Trummer | Rapax | 1:41.064s | +0.619 |
| 14 | Rio Haryanto | Caterham | 1:41.166s | +0.721 |
| 15 | Sergio Canamasas | Trident | 1:41.196s | +0.751 |
| 16 | Alexander Rossi | Caterham | 1:41.235s | +0.790 |
| 17 | Adrian Quaife-Hobbs | Rapax | 1:41.252s | +0.807 |
| 18 | Daniel de Jong | MP | 1:41.330s | +0.885 |
| 19 | Nathanael Berthon | Lazarus | 1:41.362s | +0.917 |
| 20 | Jon Lancaster | Hilmer | 1:41.549s | +1.104 |
| 21 | Conor Daly | Lazarus | 1:41.556s | +1.111 |
| 22 | Kimiya Sato | Campos | 1:41.686s | +1.241 |
| 23 | Andre Negrao | Arden | 1:41.908s | +1.463 |
| 24 | Takuya Izawa | ART | 1:42.003s | +1.558 |
| 25 | Rene Binder | Arden | 1:42.373s | +1.928 |
| 26 | Artem Markelov | Russian Time | 1:42.724s | +2.279 |