Gilbert to make GP3 debut at Silverstone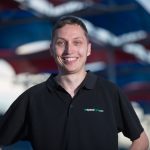 Australian single seater racer Mitch Gilbert will make his GP3 debut with Trident at Silverstone this weekend.
The 20-year-old has been competing in the FIA European Formula 3 Championship with Fortec Motorsport but an opportunity to join the F1 support series proved too good to turn down.
Gilbert will replace Denis Nagulin at the Italian Trident team while his future with Fortec in FIA F3 is yet to be resolved.
However, it is understood the British-based driver will compete for Fortec in November's prestigious Macau GP F3 race.
The young Australian revealed to Speedcafe last month he was keen to join the GP3 Series.
"I'm looking forward to a new start," said Gilbert.
"It's been a difficult season and there have been lots of problems – and we didn't feel we were getting enough support.
"But this is now about looking forward.
"I'm trying to look at it as an opportunity.
"Following Formula 1 will be a great experience and you never know who may be watching.
"It will be good to be on television as well.
"I got a call to join Trident and I'm really excited about the opportunity.
"They need to get back on track and so do I, so it's a relationship that we are really positive about.
"There's not a lot of time, but sometimes that can be a good thing – we're hoping to be pretty good straight away."
Although Gilbert  is unsure if he will stay with the team after the event, he is keen to see out the season in the series with Trident.