Bray ponders future as recovery continues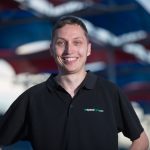 Ben Bray says he is contemplating his future in drag racing despite receiving news from doctors he could make return to the track if his recovery continues its encouraging start.
The son of Australian drag racing royalty, Victor Bray, suffered a career threatening crash at Willowbank Raceway earlier this month, which saw him break three vertebrae and six ribs.
Last week the 30-year-old was discharged from a Brisbane hospital, where he had been stationed since the accident, to continue his rehabilitation at his Queensland home.
Bray, who has been fitted with a full body brace, is expected to undergo further X-rays on his injuries in month's time to evaluate his condition.
The popular drag racer has revealed doctors have been encouraged by his recovery rate with professionals even predicting he may be able to race again if his recovery meets medical approval.
However, Bray says he is yet to make a decision if he will return to racing.
"I'm just doing what the doctors tell me," Bray told Speedcafe.com.
"They (doctors) are saying I should just go very slowly and if I follow the instructions I should be good.
"It's 50/50 as to whether I will run again in my head and that has not come through fear, but I'm just wondering if it is worth it anymore.
"If everything keeps healing how it is, I should be able to race.
"They said as long as the healing process stays on the same track and it heals to at least 80-90 percent then they would be happy for me to drive.
"However they also said they won't be able to tell if that is the case until two months down the road.
"The only fear I have is whether I can recover and be 100 percent again."
Having broken his back before in a workshop accident in 2006, which put him out of action for a year, Bray is fully aware of the seriousness of the injury.
After watching replays of the accident the former Top Doorslammer champion labels as the scariest of his career, he admitted he is extremely lucky not to be paralysed.
"Its been a hard ordeal.
"The biggest theory in my head at the moment is that I don't understand why this has happened to me twice.
"I guess that is just life.
"To break my back twice at the age of 30 and still be walking I must be the luckiest guy alive. I take that for granted.
"I've watched the video of the crash a few times.
"I remember the whole accident I was conscious for the whole thing.
"It was pretty scary as I have never been upside down in a car before.
"That was probably the scariest moment.
"I don't initially remember hitting the wall as hard as I did but I remember hitting it.
"I guess as a driver I keep constantly asking myself if there was anything I could have done to prevent it. However so far I haven't come across anything."