CAFE CHAT: Mitch Gilbert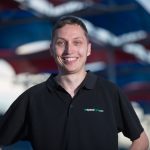 Mitch Gilbert continues to focus on following in the wheel tracks of Mark Webber and Daniel Ricciardo as Australia's next Formula 1 star.
Born to Australian parents in Malaysia, the 19-year-old has based himself in Britain where he is beginning to make an impression in the junior formula ranks.
After honing his skills on the kart tracks of Malaysia, Gilbert has been steadily rising through the lower formulae.
Gilbert has progressed through Formula Renault UK and German Formula 3 to now holding a prized seat in the ultra competitive FIA European F3 Championship for a second successive season.
Driving for top British outfit Fortec Motorsport, the young Australian faces a crunch year as he aims to show he has the potential to become a grand prix driver.
Gilbert spoke to Speedcafe.com journalist Tom Howard about his season so far and the massive challenges on progressing through the international open wheel ranks.
SPEEDCAFE: You have been progressing through the Formula 3 ranks and this year you are racing for a top team in Fortec Motorsports, what have you made of the season so far?  
MITCH GILBERT: My career kind of stalled last year. Its been tough to get back on track. Its not been the easiest of years we haven't done any testing with the new engine. I drove at Valencia last year and I didn't drive again until the official test in April. We were a bit behind the rest of the grid but it has been ok.
We have had moments where things have gone well like in Pau where we finished sixth and fifth. When we arrived at Budapest earlier this month we realised that we have still got plenty of work to do.
However, my results this year have certainly proved I am better than what I showed last season.
SPEEDCAFE: Do you see this year as a chance to make a real breakthrough?
GILBERT: This is the most important year of my life. We have had loads of budget problems in previous years so this is the year I really need to perform.
I have to show if I am the real deal or not. Its tough dealing with that pressure because you see all the people above of me make it or not make it.
It's not difficult to have a quick turn around in your career as we have seen with people like Antonio Felix Da Costa.
He was almost forgotten about and then he did those World Series by Renault races and his whole life turned around. It doesn't take a lot for people to think you are a hero but if it doesn't come this year its going to be tough to get on the right ladder to Formula 1.
I have to do it this year.
SPEEDCAFE: Obviously you want to be winning races but what do you need to do this year for this to be a successful season?
GILBERT: My hopes for this year have adjusted after the first four rounds. If we can finish in the top eight in the championship then we have done a good job.
We have not scored many points so far but the potential is there to score really well.
SPEEDCAFE: A lot has been made of the competitiveness in FIA F3, what have you made of the field this year?
GILBERT: It really is so close. Its a tough field out there.
A few of the younger kids like Max Verstappen have come in and shown up some of the drivers who have been racing at this level for four years or so.
I think that shows just how good the rookies are.
At Hockenheim I was two and half tenths off second in qualifying and I was 12th on the grid. When I've spoken to the more experienced drivers they cannot believe how tight it is.
SPEEDCAFE: Have you always been focussed on Formula 3 as the preferred route to Formula 1?
GILBERT: To be honest I think every young driver should race in Formula 3.
All the top drivers have done some sort of F3 racing.
However, we are looking at GP3 for next year because in terms of commercial opportunities its a lot stronger.
Although we are with DTM at the moment, just being on F1 weekends is so much easier to sell.
SPEEDCAFE: The best route to Formula 1 is a topic widely discussed, how important is it to be racing on the F1 schedule? 
GILBERT: It is important to be on the F1 bill.
But the only difficult thing is you don't get to drive much.
There are six pre-season days and the drivers in GP3 barely drive on the weekends.
Having said that, once you have done a couple of seasons of F3 I think it is a good time to jump over.
SPEEDCAFE: Have you started thinking about your career plans for next year?
GILBERT: Its hard. Every weekend your goals change and your future changes.
We are looking to getting investors on board as this is the only way I am going to be able to get to where I'm going and we don't know what the best route is to go.
At the moment I think I need to do F3 again as I have not shown what I think I am capable of doing.
Ideally I want to do F3 and GP3 next year like Toro Rosso F1 driver Danill Kvyat did last season, then you are catching the eye of the right people.
SPEEDCAFE: Have you considered an alternative career in motorsport if you don't reach F1?
GILBERT: Everyone in racing now is saying its impossible to get to F1 and it is just about money.
I saw this as an opportunity. If it is all about the money then we have seen drivers who are able to find the money so why don't we just try and do that.
That is the way I look at it.
But I don't want to get too old and then wish I bailed on F1 earlier.
I know so many drivers who have done that and you waste your career when there are other avenues to explore to be a professional racing driver.
We have already started looking at other options in Asia and we will be doing some GT Asia racing towards the end of the year.