Bray recovery showing encouraging signs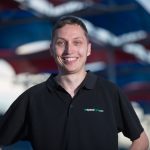 Ben Bray has taken his first steps as his recovery from a career threatening crash at Willowbank Raceway last week stepped up a notch.
The son of drag racing royalty, Victor Bray, has been hospitalised since the accident last Saturday, which saw him break three vertebrae and six ribs leaving his drag racing career hanging in the balance.
However, a week after the crash the 30-year-old has showed encouraging signs after taking his first steps aided by doctors.
Bray has been fitted with a full body brace which allows restrictive movements.
It is still very early days in his recovery but his six-time Top Doorslammer champion father believes there is a chance he will be able to leave hospital before the end of the month.
"It's a step forward," Victor Bray told Speedcafe.com.
"It took the doctors a couple of goes to get him up but once he was up he took four or five steps which to him was a massive leap forward. He was pretty happy about that.
"He has got a full body brace on and is only allowed out of bed with that on.
"Ben hasn't walked without a walker yet but if we see him walk without a walker he might be able to come home in the next few days.
"The biggest problem is his vertebrae and the doctors seem very confident when he has his full brace on. It's very restrictive but he can move around.
"He is feeling a bit better within himself. The injuries have all got to heal still but he is a bit a brighter than what he has been. He can sit up in a chair now too."
A decision as to whether an operation on his back will be required is expected to be made on Monday.
However, after undergoing physiotherapy sessions it is becoming increasingly likely the procedure will be avoided, according to Bray.
"The doctors haven't given us the final answer but they have fitted the brace and he is doing some physiotherapy.
"It looks as though the physio sessions mean he will be fitted with the brace option instead of the operation."
Messages of support continue to flood the family with Bray revealing they have received thousands of responses via social media.
"We have been overwhelmed by the well wishers. Ben probably thinks he sits in my shadow but a lot of people just follow him and I think he is only now starting to realise this," added Bray.