Richards eyes enduro success at Red Bull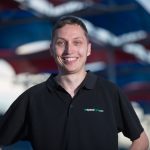 Reigning Bathurst 1000 champion Steven Richards says he already feels comfortable at Red Bull Racing and is ready to challenge for the Pirtek Enduro Cup alongside Craig Lowndes.
The New Zealander shocked the paddock when he announced plans to partner Lowndes at Red Bull for the enduros, after helping Ford Performance Racing conquer the Great Race with Mark Winterbottom last year.
Richards' move brought a seven-year relationship with the factory Ford V8 Supercar outfit to an end.
Despite switching teams, manufacturer and co-driver for 2014, the three-time Bathurst winner says he is already confident behind the wheel of the Triple Eight prepared Holden Commodore.
Richards, who completed his first dry running in the car during a test at Queensland Raceway earlier this month, fully expects to be challenging for top honours with Lowndes when the enduro season begins at Sandown.
"I've got absolutely no doubt this car can be successful come the enduros," Richards told Speedcafe.com.
"Obviously it will prove in time but there is no question the Triple Eight cars will be up at the right end of the field and vying for those wins and the championship.
"The car fits nice and does just what it should so I'm very happy.
"Myself and Craig Lowndes are more or less exactly the same body size so thats good too.
"I'm ready to go and its a nice way to feel.
"I guess its the benefit of being involved in V8 Supercars for some time now.
Having piloted a Ford Performance Racing Falcon since 2007, Richards admitted it is almost impossible to compare the two cars but admitted he was impressed with the Commodore.
"The car is very good its well refined," added Richards.
"In terms of comparing one to another you can never really do that unless you are driving the same car on the same day in the same conditions.
"The last couple of times I've driven V8 Supercars I have been really lucky to drive for top teams.
"Its clearly a very good package and I'm looking forward to doing my part at Sandown, Bathurst and Gold Coast."
Richards first won Bathurst alongside Jason Bright in a Stone Brothers Ford in 1998 and followed up a year later by winning with Greg Murphy.
The Pirtek Enduro Cup begins with the Sandown 500 which runs from September 12-14.