Lowndes: Spa the perfect Le Mans rehearsal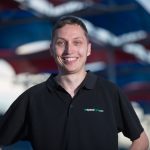 Craig Lowndes believes his appearance at the Spa 24 Hours next month will act as the perfect dress rehearsal for a tilt at the Le Mans 24 Hours next year.
The V8 Supercars star has confirmed that he is already working towards securing a drive at the twice round the clock French classic in 2015 after missing out on an opportunity to compete in this weekend's edition.
In a bid to ease himself into a future Le Mans drive, the five-time Bathurst 1000 winner will drive for AF Corse in a Ferrari 458 GT3 at the Spa 24 Hours endurance race on July 23-27.
The event solely for GT3 machinery is part of the popular Blancpain Endurance Series, which features the world's best GT teams.
The last time he raced at the iconic Belgian venue was in Formula 3000 back in 1997.
Although far from confirming a seat, the reigning Bathurst 12 Hour winner has started to plot a path to next year's Le Mans grid, with AF Corse once again a potential option.
"The Spa 24 Hours will establish ourselves and it is no secret we are trying to get to Le Mans 24 Hours," Lowndes told Speedcafe.com
"Its a little disappointing we are not on the grid for Le Mans this year but there is always next year.
"It is just a matter of seeing if the dates clash with V8 Supercars or not.
"If that is possible we will revisit the issue and if we do a good enough job at the Spa 24 Hour then we will have to see if the team want us back and what program they want to do.
"This year AF Corse wanted to do the six hour at Silverstone as well as Le Mans (this year) which is great, but I will have to see if it can fit around V8 Supercars (next year) as that is my main priority."
Lowndes will drive alongside fellow Aussie Steven Wyatt at Spa with the team's third driver yet to be revealed.
He will also work with a new engineer for the event as his long time aide Jeromy Moore, who played a key role in Lowndes' Bathurst 12 Hour win with Maranello in February, is unable to leave his duties at Red Bull Racing Australia.
As the motorsport world focusses on Le Mans this week, the three-time Australian Touring Car champion admitted he is a little jealous of fellow countryman Mark Webber, who will drive the new Porsche 919 LMP1 at the event.
"Mark doing Le Mans does make me jealous a little bit," added Lowndes.
"Its great for Mark to showcase his talent and I hope the Porsche is up to the challenge."
Webber and Wyatt will be the only two Australians on this weekend's grid following the withdrawal of Millennium Racing and with it, Queensland John Martin.
The Delta-ADR run LMP2 entry missed the Le Mans test eight days ago but remained hopeful of seeing promised backing from sponsor Millennium Development ahead of the race.
The team subsequently confirmed at the weekend that it is now focussed on rejoining the WEC field later in the season.