Bray career in the balance as tests continue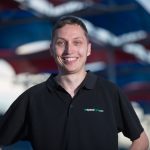 Ben Bray will undergo further scans in hospital today after breaking three vertebrae and six ribs in a high speed drag racing crash at Willowbank Raceway.
The son of Australian drag racing royalty, Victor Bray, remains in a stable condition in a Brisbane hospital where more information regarding the course of his recovery will be confirmed.
Doctors are assessing the best methods of treatment with regards to his recovery but at this stage medics believe it is possible for the vertebrae to recover. However, it is unclear at this stage whether he will race again.
Bray was taken to hospital on Saturday after his Factory Xtreme Nissan Altima flipped and made heavy contact with the wall during a run at the Winternationals over the weekend.
His six-time Top Doorslammer father will head to the hospital today to receive further news. He also confirmed that his son has full feeling in his limbs which is an encouraging sign.
Victor is reasonably confident his son will make a full recovery but admitted the healing process will be a long drawn out affair.
Ben previously broke his back in 2006 which put him out of racing for a year.
"The doctors will do some more test and scans on Ben today and we will get a decision on the use of a brace instead of the operation, thats what we're hoping on," Victor Bray told Speedcafe.com
"We are just very happy that he has all feeling in his limbs.
"I think he will make a full recovery in as far within himself.
"I think the doctors believe the serious broken vertebrae can heal but it is just going to be a long time.
"The next month or so when the healing is initiated is the tricky time, after that he just can't do anything for a long time. They have even said he cannot ride in cars.
"He has got a bit of a long way in front of him to get back to where he was, but he has already done this before.
"This is the second time he has broken his back. He had a workshop accident and broke two vertebrae in 2006 and it took him a year to get over it.
"Last time it was suggested not to get into race cars again and he sort of did. I don't know, him and his doctors will have to work that one out."
The family have been overwhelmed by messages of support for their son through social media.
"We've had a lot more messages than we thought," added Bray.
"We are pretty humbled by the number of social media messages we have received.
"When you are out racing every weekend you think you are just another motor racer so great to know we have that much support out there.
"Its been tough on the whole family. I just feel for him.
"I know he hated it last time he hurt his back and it put him out of racing for a year and he did contemplate not doing it again."
VIDEO: Victor Bray speaks following his son's accident