Ricciardo victory poignant ahead of Brabham farewell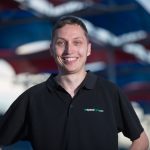 Alan Jones says Daniel Ricciardo's maiden grand prix victory is a fitting moment for Australian motorsport as the nation prepares to say farewell to legendary three-time world champion Sir Jack Brabham this week.
Australia's only surviving F1 world champion was impressed by the Red Bull star's drive as he came from behind to pass Mercedes' Nico Rosberg in the final laps to claim victory in the Canadian Grand Prix at Montreal.
Ricciardo's maiden F1 victory arrives at the start of the week in which the country remembers Sir Jack Brabham, whom a state funeral will be held at Southport, Queensland on Wednesday.
Jones, who was on commentary duty for Network 10 during the race, felt the achievement was a fitting moment for Australian motorsport. Brabham won the inaugural F1 Canadian Grand Prix held at Mosport in 1967.
"It was a fantastic drive from Daniel he did everything right and I hope Sir Jack was looking down on him today," Jones told Speedcafe.com.
"As we say farewell to an Australian grand prix legend we welcome our newest one as a grand prix winner. I think its very poignant and terrific."
Having labelled Ricciardo as Australia's newest grand prix legend, the 1980 F1 world champion is confident the maiden win will lift the 24-year-old to a new level.
Although stopping short of predicting that Red Bull can regularly challenge Mercedes, who have won six of the seven races this season, he believes the Western Australian has proved he has the skills required to be a multiple grand prix winner.
"When you win one of these things you think it would be nice to win a couple more an then after that you think a championship might be in sight, added Jones.
"It helps you lift your game.
"I don't know whether he will think he will be able to challenge the Mercedes a bit more.
"He is a realist but what it does show he has proven to himself he can win races.
"There are lot of drivers out there who have been around longer than him and not won a race.
"He is in a good team and he has a long future ahead of him so there is no reason why he cannot string a few more wins together."