Ricciardo in shock after dramatic first victory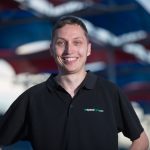 Red Bull Racing's Daniel Ricciardo admitted he is in shock after claiming his maiden F1 race victory in a thrilling Canadian Grand Prix.
The Western Australian was left almost speechless on the podium having taken his first win following a dramatic finish at the Circuit de Gilles Villeneuve.
Ricciardo passed an ailing Mercedes of Nico Rosberg for the lead with just two laps remaining having hauled himself into contention in the last 20 laps.
The victory broke the stranglehold of Mercedes, who had won all six of the previous races this year.
Heading into Canada Red Bull felt the race would show up their lack of power from their Renault engine, with the 24-year-old fearing the worst after finding himself more than a second off the leading Mercedes pace in free practice on Friday.
"It still is a bit surreal I think, and just really cool," said Ricciardo.
"It is not that we were leading the whole race, it is not like I had time to understand that I was going to win, that is why it is taking a while to comprehend in my head.
"When you see athletes have their first big achievement and they say they can't describe their feelings it's true, because you dream of it and it's not often a dream comes true.
"You dream of standing on that podium and seeing all those faces looking at you and when it happens it's a bit unreal. It's awesome."
Ricciardo revealed in the post race press conference that he thought his chances of victory were over after struggling to find a way around the second placed Force India of Sergio Perez in the closing stages.
"We were struggling to pass them, they had a strong car down the straights and a really good car in the corners," said Ricciardo.
"I was trying the whole time I was behind him. He was driving well and not making any mistakes.
"Realistically I needed a bit of a mistake from him. He got quite close to Nico and perhaps overshot the braking a bit at the last chicane and I managed to stay with him.
"I knew we were strong braking into Turn 1, or really quick into the there, and once I had outside line I went in and just made it work."
Ricciardo's victory has elevated him to third in the championship standings behind Rosberg and Lewis Hamilton respectively.