Mitch Evans fighting for F1 test drive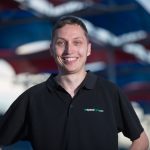 GP2 star Mitch Evans says he is prepared to fight for a maiden Formula 1 test drive with his performances on track amid a sea of emerging pay drivers.
The Auckland ace revealed he has held talks with F1 teams regarding a possible maiden test, but believes the only way he will earn a drive is on the proviso his GP2 results improve.
Evans, competing in his second season in the F1 feeder series, is ninth in the standings after a disappointing start to his campaign with reigning Teams' champions Russian Time.
Encouragingly, though, Evans secured his first podium of the year with a second place in the Monaco feature race two weeks ago.
With finances as crucial as ever  for young drivers eyeing F1, the Kiwi stressed that teams expect drivers to pay for a test with few opportunities rewarded on a results and skill basis.
Having admitted he doesn't have the financial backing compared to some of his more well heeled rivals, the 19-year-old GP3 champion from 2012 is determined to earn an opportunity on the track.
However, he is fully aware that he will need to record a maiden GP2 race victory this season to open the door to possible opportunities.
"There have been talks but some teams want money and others want to see results to prove you are capable of being in their cars," Evans told Speedcafe.com.
"There are a lot of guys in GP2 that are paying their way to tests which is frustrating but that is the way it is at the moment in motorsport.
"I don't have massive amounts of funding behind me to be paying for a drive in F1.
"All I know is that I need to be winning to have an opportunity.
"I've got to earn my stripes and do it the hard way. There are always going to be opportunities there if you can prove you have the goods.
"I want to do it that way as well as it is a lot more rewarding. I know if I can do that then pathways will start to open up for me.
"I've been in some talks with teams but its obviously very hard to get the final step underway and get in the car.
"I guess there is frustration of not winning at the moment in GP2. I think we are very close and it is a matter of me keeping head switched on to make sure I'm driving well."
Evans will head to Austria's Red Bull Ring for the fourth round of the GP2 Series on June 21-22.