Lamattina stars as Bray escapes crash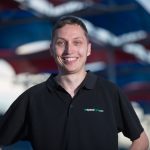 Top fuel racer Phil Lamattina cemented his position as the fastest qualifier in the Winternationals at Willowbank Raceway with a stunning 4.560 second pass at 327.27mph in qualifying.
Phil Read will head into the finals as the second fastest qualifier after setting a 4.655s pass at 296.37mph.
Meanwhile, points leader Alan Dobson was third quickest after he posted a 4.657s run.
In Top Doorslammer, it was defending champion John Zappia who topped the timesheets in qualifying, improving on two 5.766s passes to run a 5.763s pass at 253.33mph in the third qualifying session.
The West Australian had a solo pass in the opening round of eliminations, running a 5.809s pass at 252.71mph.
In spite of qualifying for the 16 car field at the event, Ben Bray was not able to contest his elimination round after an accident in his Nissan Altima in Factory Xtreme eliminations.
The son of Australian drag racing royalty, Victor Bray, made heavy contact with the wall when his Altima suddenly snapped to the right towards the end of his run.
Following the impact, Bray's car ended up on its roof before skidding to a halt.
Bray was taken to hospital as a precautionary measure.
Pro Stock driver Lee Bektash bettered Emilio Spinozzi's record breaking 6.975s qualifying pass to take top qualifying position with a 6.964s pass at 196.67mph. Bektash bettered the new record in the first round of eliminations with a 6.960s pass at 195.82mph.
American competitior Grace Howell did not make it through the first round of eliminations after being defeated by Wayne Daley.
Garry Phillips took top qualifying position in Top Alcohol with a 5.457s pass at 265.33mph. A 6.372s pass at 222.51mph saw Mark Drew qualify first in Top Bike.
Malcolm Glasset took the win in the Factory Extreme final after a near miss when George Rehayen's car veered into Glasset's lane.