Red Bull moves forward after pressure filled test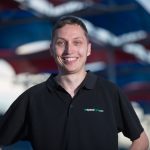 Under pressure Red Bull Racing Australia is edging closer to solving its tyre life issues after team manager Mark Dutton hailed their Queensland Raceway test day a success.
The reigning V8 Supercar Teams' champions have struggled to preserve tyres in races compared to rival teams Ford Performance Racing and Volvo Polestar Racing, which has contributed to the team's slump in form at recent meetings.
While tyre life is not the only factor the team would like to improve, it proved to be a key area of focus when its drivers Craig Lowndes and current V8 Supercars champion Jamie Whincup embarked upon their first private test day of the year on Wednesday.
New-for-2014 team manager Dutton admitted the team had earmarked the day as a crucial chance to work on areas which require improvement and he feels they have made key gains particularly with tyre preservation.
"The test was massively important and we had a solid day for both cars," Dutton told Speedcafe.com.
"You never fully understand it all until the data is reviewed but it was a strong day.
"Our race tyre life hasn't been ideal so we have been working on ways to improve that.
"However, just because we have had a good day doesn't mean we are going to set the world on fire at the next event.
"The pressure has been on. We needed a big day and people have stepped up to the plate.
"There is extra pressure when you have not been performing but these test days are massive."
While Dutton was delighted by the progress made at the test, Whincup, who has fallen 213 points behind championship leader Mark Winterbottom, was cautious on how successful the test had been.
Having earlier described the test results as "make or break" for his title defence, he believes it is too early to tell if the team have solved its current issues.
"It was a busy day and a productive day," Whincup told Speedcafe.com.
"We have got a heap of information that the engineers are going to have to sort through in the next coming weeks.
"There were no real silver bullets but we knew there wasn't going to be.
"The game is about trying to find little one percent advantages here and there.
"Maybe if we piece some of the things together we could go faster but it is a bit too early to tell. It could go either way.
"We have been a little bit behind the eight ball four or five times over the last eight years and we have always sprung back and I can't see any reason why that won't be the case again, but time will tell."
VIDEO: Speedcafe.com's video from the Queensland Raceway test