Geddes faces Finke on two and four wheels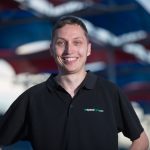 Queensland racer Billy Geddes plans to make use of a local helicopter crew in a bid to become the first person to complete the gruelling Tatts Finke Desert Race in a truck and on a bike.
The Brisbane-based off-road driver has set himself the mind boggling challenge of covering more than 900km of inhospitable terrain on both two wheels and four in just two days.
Geddes plans to travel back and forth across the 229km course via helicopter during the weekend in order to complete the race in both disciplines.
The Finke Desert Race, one of Australia's most gruelling events, runs from Alice Springs to Finke has been held annually since 1974.
This will be Geddes' fourth attempt at the Finke Desert Race after finishing fifth outright last year.
Despite the enormity of the challenge, Geddes is setting his sights on not only completing the race but challenging for honours in the truck category.
"Its definitely not going to be easy thats for sure," Geddes told Speedcafe.com.
"We've had the idea of doing a dual run for some time and it has all come together in 12 months.
"I don't mind the hard slog it is where I am strongest so I will just draw on that. I have got my physical fitness as good as it can be.
"I'm not going to beating too many people on the bike, the guys who race in the category are elite athletes on their own right. But I will be trying my hardest to be a front runner in the truck again.
"We are not taking it lightly.
"Its a gruelling track and if you step out of line it will own you. I need to understand that I'm not 18 and made out of rubber anymore.
"I reckon I will get through the first day in not bad shape but I have got to really look after myself in regard to nutrition and hydration in the first day."
The Finke Desert Race begins on Saturday June 7.