Whincup: Test findings vital to title defence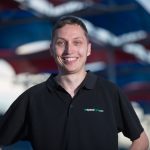 Jamie Whincup believes the findings from Red Bull Racing's test at Queensland Raceway today could make or break his title defence.
The reigning V8 Supercars champion's hopes of retaining his crown have been dented in recent weeks after recording just one podium finish from the last 10 races.
Whincup's run has coincided with fluctuations in Red Bull Racing's form which has seen the squad's Holden Commodores struggle to match the outright speed shown by pace setters Ford Performance Racing and Volvo Polestar Racing on some circuits.
After falling 213 points behind rival and championship leader Mark Winterbottom, Whincup has earmarked the team's first test day of the year as a crucial point in his season with regards to keeping his title hopes alive.
The five-time V8 Supercars champion is adamant that the findings and improvements found at Ipswich's Queensland Raceway could ultimately decide his campaign.
"I feel like today is one of the most important days of the year," Whincup, who is sharing his seat at the test with co-driver Paul Dumbrell, told Speedcafe.com
"We are either going to turn things around and improve or we are not and fall further behind. Its a really critical day for us.
"It is such a draining day I've been under the pump and much more compared to a race weekend.
"I've been in the car for two hours straight will have a bite to eat and then get straight back on it again.
"Its physically and mentally one of the toughest days of the year."
Red Bull Racing have been sharing the track with Erebus Motorsport's Lee Holdsworth and Will Davison.