Premat confident ahead of maiden Volvo drive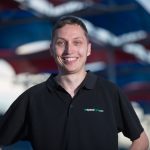 Alexandre Premat believes his Pirtek Enduro Cup pairing alongside Scott McLaughlin is one of the strongest on the grid ahead of his first steer of the Volvo V8 Supercar at Winton today.
Volvo Polestar Racing's first test day of the season at the Victorian circuit will offer the Frenchman valuable time behind the wheel of the all new S60, in what will be his first V8 Supercar drive since December's Sydney 500.
Volvo is testing alongside fellow Victorian-based teams Ford Performance Racing, Walkinshaw Racing, Nissan Motorsport and Brad Jones Racing in what promises to be a busy day at the rural venue.
Since losing his full-time drive at GRM at the end of 2013 to Sweden's Robert Dahlgren, Premat has switched his attention to sportscar racing, competing in the Blancpain Endurance Series.
Despite spending the majority of the season competing in Europe, the 32-year-old has kept a close eye on V8 Supercars and has been particularly impressed at the strength of the Volvo.
The S60's strong start to the championship has given him reason to believe the #33 will be a leading contender in the Pirtek Enduro Cup.
"Its really important to get a really good feeling behind the wheel and see the level of downforce and the power in the new car," Premat told Speedcafe.com of today's Winton test
"It (the Enduro Cup) is going to be important for Scott's championship and I think we have a good chance. Scott has shown its a really strong package so hopefully we could get some podiums.
"I can't say we are going to be the best line up but we are going to be really good. We have all ingredients to bring home results.
"I will be giving it all of my effort because I really want to be part of the success of Volvo. "I'm planning to do some simulator work to get used to the tracks again.
"I have been surprised how quick the car has been. Its really impressive what the team have done so far this year.
"I mean straight away the car scored a podium at Clipsal and in qualifying trim it has really good pace. I think the car is missing a bit in the races but I think we are going to be good."
Having earlier this year declared that the co-driver deal with GRM could reignite his V8 Supercar career, Premat is cool on the chances of returning to the championship full-time in 2015.
"If we do well in the enduros then maybe (a full-time return could happen) but it is difficult as I am moving my family back to Europe," added Premat, who has remained Melbourne-based during the early part of this year.
"(But) I don't want to say that I wouldn't come back to Australia with all the family if there was an opportunity.
"If someone offers me a good opportunity to get back into V8 Supercars then maybe I will do it. I'm not thinking about it yet."
Premat's replacement Dahlgren has struggled to perform since arriving in Australia, sitting at the bottom of the championship standings after 17 races.
The Swede will be joined by experienced V8 Supercars campaigner Greg Ritter for Volvo's Enduro Cup campaign.