Jack Miller set for Moto2 move in 2015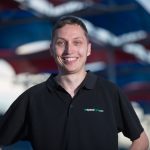 Rising Australian motorcycle star Jack Miller is readying himself for a move up to Moto2 next season.
The Queenslander has turned heads in the MotoGP paddock this year after surging into a commanding lead in the Moto3 class.
Billed as Australia's brightest hope since double MotoGP world champion Casey Stoner, the Red Bull KTM rider has won three of the five Moto3 races held to date in 2014, showcasing skills well beyond his years.
While the 2014 season is still in its early stages, it is understood that the Townsville native has already secured a deal to graduate to Moto2 for 2015.
Confirmation of the 19-year-old's Moto2 destination could come as soon as the next round of the championship at Barcelona.
Since replacing the 250cc formula in 2010, the 600cc, four-stroke, Moto2 class has well and truly proved its ability to cultivate the next generation of MotoGP stars.
Reigning world MotoGP champion Marc Marquez, Monster Yamaha's Pol Espargaro and LCR Honda's Stefan Bradl have progressed to motorcycle racing's top flight from Moto2 in the last three years.
"I'll definitely jump to Moto2, and I hope to arrive there as a winner of the Moto3 World Championship," Miller told Speedcafe.com of his future.
"I would like to go to MotoGP as soon as possible, but for sure the first step is Moto2.
"We can see that all the Moto2 riders that jump to MotoGP have good performances, so I think this is a good way for learning.
"I consider that my riding style suits better Moto2 bikes than Moto3 ones."
Among those closely watching Miller's progress is Australia's triple World Superbike champion, Troy Bayliss, who is full of praise for the youngster's ability and maturity.
"There are a lot of important people in the sport looking at him," Bayliss told Speedcafe.com.
"There definitely a few people half keen on him in MotoGP already.
"You can see his confidence just growing this year and his riding in the races is unbelievable. He is our next big hope.
"He has definitely earned the right to be on a world class bike in Moto2 next year, thats for sure."