Kiwi teen gunning for Waltrip NASCAR contract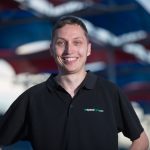 Aspiring NASCAR driver Hayden Pedersen has secured an opportunity to race in front of Sprint Cup stars Danica Patrick and Clint Bowyer to earn a development driver role with Michael Waltrip Racing.
The Kiwi teenager has been selected as one of 18 drivers to compete in the final rounds of the Peak Stockcar Dream Challenge competition held at the famous Charlotte Motor Speedway on June 9-11.
Napier-raised Pedersen, who moved to America last year in a bid to build a career in NASCAR, entered the contest in February.
Since then he has progressed to the final where 18 drivers will compete for a five-race NASCAR K&N Pro Series contract with Michael Waltrip Racing.
The finalists will take part in several challenges including an hour long go kart race before the group is whittled down to the final nine drivers.
This process will be conducted by NASCAR legend Michael Waltrip and current Sprint Cup stars Danica Patrick (who is a Peak oil ambassador) and `MWM driver Clint Bowyer, who form the judging panel.
A race on Charlotte's shorter oval in identical former Nationwide Series machines will decide the winner.
"The dream has always been to come over to America in NASCAR. Its hugely important for me," Pedersen told Speedcafe.com.
"Its just going to explode my career it's hard doing it by myself. It's all, about what you know and who you know.
"To compete in five races with one of the biggest teams in the sport is a huge opportunity and if you do well they are going to keep you on and will push me forward up the NASCAR ladder.
"Everyone will know who I am by the end of it."
Whatever the outcome of the competition, Pedersen, who raced in the NASCAR Late Model series last year, is aiming to secure a deal to race in the K&N Pro Series this year as he continues to chase his NASCAR dream.
The fortunes of young Kyle Larson, who has made rapid progress to the glamorous world of Sprint Cup with Chip Ganassi Racing, has given him hope it is achievable.
"We're looking at doing a few K&N East races with the money we have even if I don't get selected," added Pedersen.
"Its just a case of seeing how I go in those and if I do go well.
"It is good to see that NASCAR is keen to promote younger drivers through the ranks and it does give me hope.
"There is a kid called Kyle Larsson who has just come through to the Sprint Cup and its only been a three year progression for him."
Florida's Patrick Staropoli won the inaugural Peak Stockcar Dream Challenge last year and is now racing for Michael Waltrip Racing in the K&N Pro Series.