Brands Hatch to honour Sir Jack Brabham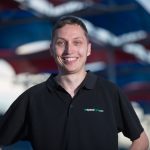 David Brabham will lead an emotional tribute to his three-time F1 world champion father Sir Jack Brabham at Brands Hatch this weekend.
The youngest son of the Australian legend will honour the memory of his iconic father by driving a Brabham BT24  around the UK circuit as part of the Masters Historic Festival.
A parade of Brabham race cars at Brands Hatch will pay tribute to Sir Jack who died peacefully at his Gold Coast home on Monday aged 88.
The annual Brands Hatch event takes on special meaning this weekend by celebrating 50 years since the first British GP held at the circuit and by honouring the memory of one of the great pioneers of the sport.
Brands Hatch played an important part in Sir Jack's F1 career , in particular, where he won the 1966 British Grand prix at the venue.
The circuit also renamed the start/finish straight after the Aussie in 1976.
'Black Jack' won the F1 world championship in 1959, 1960 and in 1966.
"Having seen the response from around the world, it's only hit me now how big a name he was," David Brabham said.
"I think it will be one of the most emotional times I'll have, with dad's passing seeing the response around the world from people sending their thoughts and emotions, it's been quite incredible.
"So to go to Brands Hatch, which really was a second home for the family, because dad had a fantastic relationship with John Webb for a very long time.
"When I first came here I lived at Brands Hatch for six months with my older brother Gary.
"We were both instructors at Brands Hatch (and) the family has won a lot at Brands Hatch.
"So it's a very special place for us and to go to Brands Hatch and drive one of dad's old Brabham cars at a time like this after his passing – it's going to be difficult to keep the emotions at bay, that's for sure."
David's son Sam Brabham, who competes in the British Formula Ford Championship will also attend the event which celebrates 50 years since the first British Grand Prix at the Kent circuit.