Williams link boosts Aussie's F1 hopes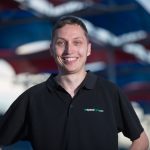 Australian driver Steel Guiliana's international career prospects have been lifted following a session in the Williams F1 team's simulator.
The 22-year-old was invited by the multiple F1 world champion team for a spell in the simulator and a tour of the Grove facilities this week.
The opportunity arose after being introduced to the team by former Williams driver and 1980 F1 world champion Alan Jones at the Abu Dhabi Grand Prix last year.
Former Australian F3 driver Guiliana spent a day at the team's headquarters where he was strapped into the Williams simulator used by the team's drivers Felipe Massa, Valtteri Bottas, Susie Wolff and Felipe Nasr.
The facility is used by Williams to develop both its cars and drivers.
After almost a year on the sidelines since his last F3 outing, the New South Welshman was pleased with his display which he hopes will help progress his career.
"To be invited by any F1 team let alone one that has won world championships is something I'm really proud of," Guiliana told Speedcafe.com.
"Its an important step in my career and I'm really happy with how it went.
"It was certainly different to the Playstation.
"I did the best I can and the team were happy with how I went.
"I thought it might be challenging as I haven't been in a race car since July last year.
"There was some feedback as we were able to compare traces with the team's current drivers and see where they were quicker and how to improve my driving."
Having struggled to find a drive this year, he feels the opportunity has renewed his motivation to pursue his F1 dream.
Guiliana has been in touch with several GP3 teams with regards to potential drives and is now setting his sights on a permanent move to the UK in a bid to progress his career.
"It has given me a bit of extra drive to succeed on my dream to Formula 1," added Guiliana.
"I've always believed in myself and I've never given up. It has certainly given me that extra motivation. Its another incentive to keep going.
"I'm turning 23 soon so I really need to get into gear, find a ride and make something happen.
"The main target for me is to move over to the UK and find myself a job in Formula 1 team even if its not on the driving side. I will keep beating the drum."