Rosberg: New exhaust fails to up noise levels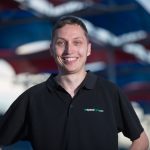 Nico Rosberg believes Mercedes' new prototype 'megaphone' exhaust trialled at the Barcelona test on Wednesday made little difference to the sound of his 2014 F1 car.
Mercedes chose the final day of the official test to evaluate its newly designed 'megaphone' exhaust on behalf of all the F1 teams and the FIA.
The 'megaphone' exhaust attachment, engineered to amplify the noise generated by the new V6 turbocharged engines, is the first solution offered to counteract the criticism received from fans, promoters and F1 boss Bernie Ecclestone about the sound of the 2014 spec cars.
Rosberg trialled the new exhaust in the morning running of the test before reverting to a conventional tailpipe for the remainder of the session.
After running both systems the German revealed he didn't notice much of a difference in the level of the engine note produced by the new exhaust, admitting the approach is not the right solution to increase the sound of the cars.
"Everyone was talking about the exhaust but to be honest I didn't notice much difference in the sound," said Rosberg.
"Of course, we're happy to try these things if that's what the FIA and the fans want us to do. But perhaps this was not the right solution."
Rosberg confirmed the new exhaust did not affect the performance of his W05.
Sound experts employed by the FIA have collected data from the test and will evaluate the results before any decision to implement the system is reached.