SENNA WEEK: Part 1 – Senna's first rivalry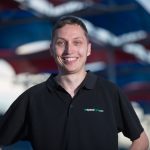 It was a rivalry that was to be a tantalising window into one of Formula 1's great careers.
Ayrton Senna's hard fought and often acrimonious fights with Martin Brundle to the 1983 British F3 title prepared him for the high pressure world of grand prix racing.
Born to an affluent family in Sao Paulo, Brazil in 1960, Senna was driven to succeed at an early age.
While strong academically at school, the young Brazilian soon developed a taste for engineering and speed, which was quenched by the purchase of a go kart and competed in his first race aged just 13.
Aided by the support of his father, Senna fell in love with competing. After winning the South American karting championship in 1977, he went on to race in the world championship, before a move to Europe beckoned.
Having built a reputation as a quick and aggressive racer in karts, Senna showcased his talent by romping to the 1981 British Formula Ford title with Van Diemen, winning 12 of the 20 races.
Pressure from Brazil to return and work for the family business began to escalate potentially derailing his dreams of reaching F1. However, an offer from Van Diemen to race in the British and European Formula Ford 2000 category proved too good to turn down.
Senna made the most of the reprieve by taking the title in dominant fashion, before setting his sights on the next step on the ladder, the cut throat British Formula 3 series. It was the 1983 British F3 season which would bring Senna to the notice of some powerful grand prix movers and shakers.
Martin Brundle, a young British driver hailing from rural Norfolk, would become Senna's fierce rival. Brundle made his name in Formula Ford and saloon cars before moving into F3 a year before Senna arrived on the scene.
Although Brundle had an experience advantage, it was Senna who stormed to nine consecutive victories at the start of the year, with the Englishman often in his wake.
But the rivalry really sparked into life in a European championship round at Silverstone when Brundle finally broke the Brazilian's run.
Senna was rattled by the Brit's performance and subsequently crashed while trying to keep up. The fact he had been beaten by another driver in a similar car frustrated Senna.
At the next round at Cadwell Park in rural Lincolnshire, he suffered a shock crash in practice which ruled him out of the event, allowing Brundle a clean sweep to victory.
"It seems a long time ago now since our battle in British F3," Brundle told Speedcafe.com while reflecting on the 1983 British F3 battle with Senna.
 "He was quick in F3 but in his mind it didn't compute that someone could beat him in exactly the same car on any given day.
"He had such a gift of speed and such a confidence that it was interesting to see how he reacted to losses.
"He reacted to it in an emotional way. Ayrton was very emotionally driven. He was driven from his heart."
Senna's seemingly impenetrable lead dwindled as he tried to halt Brundle's charge as the Brazilian crashed three times in the next six races while battling the Englishman for the lead.
The pair continued to clash with Brundle often capitalising on Senna's desperation to pass which led to a string of retirements. The most famous of which came at Oulton Park when the rivalry reached boiling point.
Senna tried an almost impossible move for the lead at Fosters, which resulted in his car vaulting over the back of Brundle.
By the time the final round approached at Thruxton, Senna was one point in arrears after once holding 34 point lead. But on the day he proved to be untouchable.
He produced a dominant  drive to take the chequered flag and the coveted title, leaving Brundle to ponder what could have been.
"Ayrton was the best and most naturally gifted racing driver I ever raced against," added Brundle, who would follow Senna into F1 the following year.
"He wasn't the most complete driver as I think that label belongs to Michael Schumacher, but in terms of raw speed and a sixth sense for where grip was at a corner before he drove through it, Senna was the best."
Senna's performances in the lower formulae grabbed the attention of Formula 1 teams with Frank Williams offering him a test drive in one his machines at the end of the year.
His gutsy move from Brazil to follow his dreams payed off as he landed a drive with the Toleman F1 team for the 1984 season, where his immense talent would be unleashed on the world stage.
Senna's 1983 British F3 Championship
| | | |
| --- | --- | --- |
| Circuit | Result | Points Advantage |
| Silverstone | 1st | +4 |
| Thruxton | 1st | +6 |
| Silverstone | 1st | +10 |
| Donington Park | 1st | +14 |
| Thruxton | 1st | +16 |
| Silverstone | 1st | +22 |
| Thruxton | 1st | +26 |
| Brands Hatch | 1st | +30 |
| Silverstone | 1st | +34 |
| Silverstone | Retired (Accident) | +34 |
| Cadwell Park | DNC | +24 |
| Snetterton | Retired (Accident) | +16 |
| Silverstone | 1st | +20 |
| Donington Park | 2nd | +18 |
| Oulton Park | Retired (Accident) | +19 |
| Silverstone | 1st | +22 |
| Oulton Park | Retired (Accident) | +13 |
| Thruxton | Retired (Engine) | +3 |
| Silverstone | 2nd | -1 |
| Thruxton | 1st | +5 |
 Footage of Brundle and Senna's clash at Oulton Park in 1983
 *Tomorrow: Part 2 – Senna's leap into F1