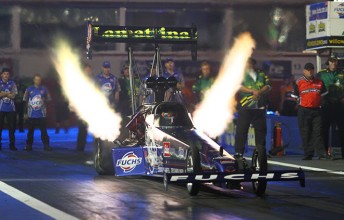 A strong field of seven Top Fuel competitors will line-up for the next two rounds of the Australian Top Fuel Championship at Willowbank Raceway, the Santo's Super 3 Extreme Drag Race.
Defending champion, Steve 'The Pom' Read will be aiming to continue his outstanding run from the corresponding event of last year, where he recorded six consecutive passes in the mid four second bracket, doing enough to take his 'privateer' team to victory lane.
He will faces tough competition from the form team of 2014, the Lamattina brother's Fuchs/Elders outfit.
Making his return to Top Fuel is championship leader, Phil Lamattina's younger brother, John.
After making finals in his first event last year, Lamattina jr is aboard the chassis that Phil took to second place in the title race last year.
"Phil calls it the hand-me-down," John said.
"But we tested it at Sydney Dragway a few weeks ago with a new front end similar to what is on the other car and it is ready to go."
John said he wasn't the type to set goals or targets and that Top Fuel racing was just something he likes to do when the team has the opportunity to field two cars.
"If I was racing full time, I'd say I want to win a championship, but not doing all the rounds means it is out of reach," he said.
"But I'd like to perform well side-by-side against Phil; he's the measuring stick."
Phil dominated early proceedings at the Perth Motorplex in 40-plus degree heat in January and went close to repeating his feat at the subsequent two rounds, also by the beach in Kwinana.
Teams are racing for the Louie Rapisarda Trophy.
Last year's Santo's Cranes Super 3 Extreme Drag Race lived up to the 'Extreme' reputation, with American star, Larry Dixon having a rear wheel come adrift from his car (a Rapisarda prepared vehicle) before going out and setting a new Australian record time on the Saturday night.
So confident are the Rapisarda team, they believe they can re-set the new national record to an astonishing 4.40s lap.
They will field cars for Perth racer Allan Dobson and Damien Harris.
Also joining the field will be former Australian Champion, Phil Read.
Rookie Top Fuel racer Peter Xiberras will make his debut at Willowbank this weekend.
Running to the same Extreme elimination format will be Top Alcohol, with another Steve Reed – also based very close to Willowbank – keen to show some good form in the other feature category.
"At Willowbank Raceway we wanted to give the fans exactly what they want – they have been asking for a short and sharp show and we tried it last year (with the Santo's event) and are going to build on it this year, (Queensland) is really leading the way in entertainment for Australian drag racing," said Reed.
On-track action begins from 5pm on both Good Friday and Easter Saturday at Willowbank, with Top Fuel and Top Alcohol from 5:30pm on both nights, with finals scheduled to be complete by 9:30pm.
See video preview below