Jones: Ricciardo has justified Red Bull call up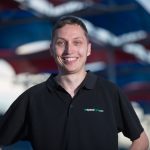 Daniel Ricciardo has already repaid the faith Red Bull Racing placed in him to replace Mark Webber, according to former world champion Alan Jones.
The Western Australian's promotion to Red Bull after two seasons at sister team Toro Rosso raised eyebrows last season, but after just three races 1980 F1 world champion Jones believes he has more than justified the team's decision.
Ricciardo, who saw off competition from 2007 F1 world champion Kimi Raikkonen for Webber's vacant Red Bull seat, has turned heads since joining the world champion squad.
Disregarding his disqualification from second place at the Australian Grand Prix and a Bahrain grid penalty, the 24-year-old has out performed his four-time world champion team mate Sebastian Vettel in two of the three race weekends this season.
Today his Red Bull team will attend an FIA hearing in Paris to learn the result of their appeal against the Australian's Albert Park disqualification for a breach of the 100kg/h fuel flow rule.
Regardless of the outcome, Jones feels Ricciardo has vindicated his promotion and will go on to win races.
"I think every race he has done he has hopped out of the car with his confidence being boosted," Jones told Speedcafe.com
"He has been able to hold his head high on every occasion. I think Red Bull must be patting themselves on back saying, 'we certainly picked the right bloke'.
"His pace hasn't surprised me and I think he can win grands prix.
"Its not like I haven't been predicting he is going to go places.
"I've been saying it for the last four or five years and this is just an indication of what I've been saying.
"Red Bull have got to get some more horsepower and once they do that Vettel and Daniel are going to be looking good."
His performance against reigning world champion Vettel has not gone unnoticed either. Further enforced after winning a thrilling dice against his opposite number on the way to fourth place at the Bahrain Grand Prix, Ricciardo showed he is not intimated by his illustrious team-mate.
"I think he has sent the message in no uncertain terms that he is not going to be compromised or intimidated by Vettel and if Sebastian wants to beat him then he is going to have to earn it," added Jones.
"I thought it was quite funny to hear Vettel being told to move over and let Ricciardo passed in Bahrain. He hasn't been told that for a while.
"I have also been saying don't let the bloody smile fool you. He (Ricciardo) can grow horns at the right time."
*Stay with Speedcafe.com for all the latest Formula 1 news.