Erebus owner confirms Will Davison for 2014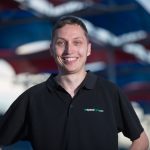 Multiple V8 Supercars race winner Will Davison has been officially confirmed at Erebus Motorsport for the 2014 season.
In a poorly kept secret, the former Ford Performance Racing driver's future has been a topic of discussion throughout the second half of the 2013 campaign, with the move to the AMG customer squad originally coming to light in October.
His move from FPR to Betty Klimenko's team looked even more likely when Chaz Mostert was announced as Mark Winterbottom's 2014 team-mate prior to the Gold Coast 600 last season.
The colourful Erebus Motorsport team owner confirmed via her Facebook account that the 16-times V8 Supercars race winner will be driving the Erebus Motorsport AMG E63 this season.
Klimenko believes the acquisition of 31-year-old Davison will significantly help her fledgling team move forward in 2014.
"Will is joining Erebus and I couldn't be happier," Klimenko wrote.
"He is a lovely boy, who sees the big picture.
"He understands that he is coming into a team that is still finding its roots.
"He also understands that we are not just one category, we are a motorsport company, we embrace the whole of the sport, and we want drivers and crew to be able to do the same.
"Will, like all our drivers have been, will be part of the evolution of our cars. I believe this makes for a good team.
"He understands this and this is what drew me towards him as a driver in the first place."
Erebus will mark Davison's fourth full-time V8 Supercars home, having undertaken spells at Dick Johnson Racing (2006–2008) and the Holden Racing Team (2009–2010) prior to joining FPR in 2011.
Davison joins Lee Holdsworth in a reduced two-car Erebus operation for 2014.
Erebus had run three cars in his foundation year last season however REC-holder James Rosenberg switched the #47 to Walkinshaw Racing for the coming season.