Ash Walsh signs new Dunlop Series deal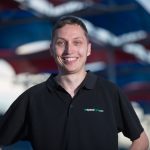 Ash Walsh has agreed to a new deal with Matt Stone Racing to contest the Dunlop Development Series this season.
The 26-year-old Ipswich-based driver will continue to pilot the #87 ex-Stone Brothers FG Falcon which helped him to the runner-up spot in 2013 Dunlop Series.
This will be Walsh's third full season in the V8 Supercars feeder series.
Walsh, who dovetailed his 2013 Dunlop Series campaign with a V8 Supercars co-driver role at Dick Johnson Racing, will be among the favourites to lift the 2014 title.
The Queenslander recorded three race victories and a round win at Perth last season en route to finishing second to Dale Wood in the championship.
"The Dunlop Series this year will be super competitive so to be able to stay put with Matt Stone Racing with increased sponsorship support is a great outcome. I can't wait to get to Adelaide as it is a fantastic event", said Walsh.
"We are really happy that the Infants' Friend team reviewed the results of 2013 and are coming with us again in 2014.
"They worked the sponsorship very hard with retail and trade promotions and it has paid off."
MSR boss Matt Stone is glad to agree a new deal with Walsh and he fully expects his team to contend for the 2014 title.
"MSR is firmly now one of the major teams in the Series and to sign Ash again is a great thing for us, said Stone.
"There is no reason why we can't challenge at every race for podiums and wins and ultimately the Championship."
The 2014 Dunlop Series begins at the Clipsal 500, Adelaide from February 27-March 2.