James Winslow recalled for Fuji endurance race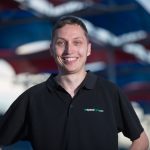 Securing a drive in the 2014 Le Mans 24 Hours is the driving force behind reigning Australian Formula 3 champion James Winslow earning a recall for the Asian Le Mans Series round at Fuji this weekend.
The Australian-based Brit has been selected by the Hong Kong based KCMG squad to tackle the Fuji 3 Hour endurance hot on the heels of his victory with the team on debut at South Korea's Inje Speedium last month.
Winslow is the only driver from the victorious Inje KCMG team to retain his seat for the second round of the Asian Le Mans series.
He will be joined in the Morgan Nissan LMP2 prototype by fellow Brit and KCMG Super Formula driver Richard Bradley and Japanese sportscar ace Kazuhiro Koizumi.
With the KCMG team leading the championship, Winslow is already setting his sights on securing the prize 2014 Le Mans 24 Hour grid slot for the inaugural Asian Le Mans Series champions.
Winslow told Speedcafe: "It's great to be back with KCMG. We are looking for another good result and are hoping to build on our championship lead.
"Our preparation for Le Mans 24 Hour next year is going well and another solid result will put us one step closer to winning the Le Mans 2014 entry.
"The LMP2 Sportscar is a great car to drive and working with the very professional people who normally work in Formula 1 at team KCMG has given us a great car to run very competitively."
The creation of the Asian Le Mans Series is the latest initiative from Le Mans 24 Hours organisers Automobile Club de l'Oest (ACO).
The new four-race series will follow the format of the European Le Mans Series with teams competing in LMP2, LMPC, GTC and GT Am categories.
LMP2 and GTC victors will receive automatic entry to the 2014 Le Mans 24 Hours.
Fuji debutant Winslow will be joined on the grid by Australian Steve Wyatt, who is competing for AF Corse in the GT class alongside Italians Michele Rugolo and Andrea Bertolini.
The Fuji 3 Hour will be held on Sunday.