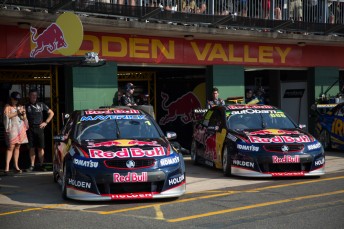 Episode #11 of the 2013 Crimsafe Endurance Countdown looks at defending Sandown and Bathurst champions Red Bull Racing Australia.
The team that has been the ones to beat since 2006, Red Bull Racing Australia not only has form, but it will remain unchanged from last year when Craig Lowndes and Warren Luff won at Sandown, then Jamie Whincup combined with Paul Dumbrell to take victory at Mount Panorama.
The only changes have come in the form of the major sponsor on the car with Red Bull taking over from Vodafone and the move to The Car Of The Future platform.
One other aspect to the Triple Eight Race Engineering team's entry for Bathurst will be a wildcard Commodore for Andy Priaulx and Mattias Ekstrom with backing from Xbox One. Will that be distraction to Red Bull Racing Australia? Well Crimsafe Endurance Countdown host Briony Ingerson and expert analyst Jack Perkins take a look over the defending champs plus Stefan Bartholomaeus speaks with Craig Lowndes and Jamie Whincup.
Crimsafe Endurance Countdown 2013 – Episode 11 – Red Bull Racing Australia
Crimsafe Endurance Countdown 2013 – Episode 10 – Walkinshaw Racing
Crimsafe Endurance Countdown 2013 – Episode 9 – Ford Performance Racing
Crimsafe Endurance Countdown 2013 – Episode 8 – Erebus Motorsport V8
Crimsafe Endurance Countdown 2013 – Episode 7 – 40 years of 1000km racing at Bathurst
Crimsafe Endurance Countdown 2013 – Episode 6 – Brad Jones Racing
Crimsafe Endurance Countdown 2013 – Episode 5 – Fujitsu Racing GRM
Crimsafe Endurance Countdown 2013 – Episode 4 – Nissan Motorsport
Crimsafe Endurance Countdown 2013 – Episode 3 – Tekno Autosports

Crimsafe Endurance Countdown 2013 – Episode 2 – Lucas Dumbrell Motorsport

Crimsafe Endurance Countdown 2013 – Episode 1 – Dick Johnson Racing