Marquez extends points lead with Indy victory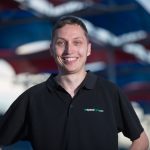 Rising star Marc Marquez took another step towards his maiden MotoGP crown as he dominated the field once again to win the Red Bull Grand Prix of Indianapolis.
It wasn't a complete lights-to-flag victory with Jorge Lorenzo leading the early stages.
However after battling back from third, Marquez showed his class at the famous American circuit to grab the lead on Lap 11 and from there he never looked back.
Honda team-mate Dani Pedrosa came home in second ahead of fellow countryman Lorenzo. Marquez has now built up an ominous 21 point lead in the championship over Pedrosa.
It was Lorenzo who reacted best to the lights and he led from the outset with Pedrosa slotting into second and Marquez in third. Monster Yamaha's Bradley Smith surprised the field by leaping into fourth position as his team mate Cal Crutchlow struggled, but it didn't take long for him to move past and set his sights on the lead group.
On Lap 7 Marquez made his first move as he passed Pedrosa for second and was immediately on the tail of leader Lorenzo. Further back Alvaro Bautista passed Smith and then Crutchlow for fourth.
After stalking his rival for several laps, Marquez pounced and grabbed the lead from Lorenzo and quickly set about trying to gap the field. Crutchlow soon followed suit on Bautista as the battle raged for fourth position.
Marquez had topped every session and Indianapolis in the lead up to the race and he continued to show why as a string of fast laps saw him gap Lorenzo by almost a second per lap.
While Lorenzo dropped Pedrosa, Valentino Rossi was making progress moving into sixth with a move on Stefan Bradl. The real fight was for fourth with Bautista and Crutchlow trading blows.
Pedrosa showed signs of recovery late on closing the gap to Lorenzo but was unable to pass him. This pressure helped Marquez scamper away even further and in the end he took the chequered flag to record back-to-back wins in America by 3.495 seconds.
Rossi's charge continued on the final lap as he grabbed fourth from Crutchlow with Bautista settling for sixth ahead of Bradl. Smith and the Ducati duo of Nicky Hayden and Andrea Dovizioso rounded out the top 10.
Australia's Bryan Staring pushed his CRT Gresini Honda to finish in 19th position.
MotoGP returns to Europe this weekend for the Czech Republic round held at Brno.
 See below for the full race result
| | | | |
| --- | --- | --- | --- |
| 1 | Marc Marquez | Honda | 44m52.463s |
| 2 | Dani Pedrosa | Honda | 3.495s |
| 3 | Jorge Lorenzo | Yamaha | 5.704s |
| 4 | Valentino Rossi | Yamaha | 19.895s |
| 5 | Cal Crutchlow | Tech 3 Yamaha | 19.955s |
| 6 | Alvaro Bautista | Gresini Honda | 20.061s |
| 7 | Stefan Bradl | LCR Honda | 24.842s |
| 8 | Bradley Smith | Tech 3 Yamaha | 40.690s |
| 9 | Nicky Hayden | Ducati | 40.701s |
| 10 | Andrea Dovizioso | Ducati | 40.823s |
| 11 | Andrea Iannone | Pramac Ducati | 59.868s |
| 12 | Aleix Espargaro | Aspar Aprilia | 1m06.650s |
| 13 | Colin Edwards | Forward FTR-Kawasaki | 1m09.462s |
| 14 | Claudio Corti | Forward FTR-Kawasaki | 1m15.207s |
| 15 | Hiroshi Aoyama | Avintia FTR-Kawasaki | 1m20.159s |
| 16 | Hector Barbera | Avintia FTR-Kawasaki | 1m25.879s |
| 17 | Danilo Petrucci | Ioda-Suter-BMW | 1m29.616s |
| 18 | Michael Laverty | PBM-Aprilia | 1m36.388s |
| 19 | Bryan Staring | Gresini FTR-Honda | 1 lap |
| DNF | Yonny Hernandez | PBM Aprilia | 17 laps |
| DNF | Lukas Pesek | Ioda-Suter-BMW | 14 laps |
| DNF | Randy de Puniet | Aspar Aprilia | 5 laps |
| DNF | Blake Young | Attack APR-Kawasaki | 0 laps |
See below for the updated points standings
| | | |
| --- | --- | --- |
| Pos. | Rider | Points |
| 1 | Marc MARQUEZ | 188 |
| 2 | Dani PEDROSA | 167 |
| 3 | Jorge LORENZO | 153 |
| 4 | Valentino ROSSI | 130 |
| 5 | Cal CRUTCHLOW | 127 |
| 6 | Stefan BRADL | 93 |
| 7 | Andrea DOVIZIOSO | 87 |
| 8 | Alvaro BAUTISTA | 81 |
| 9 | Nicky HAYDEN | 72 |
| 10 | Bradley SMITH | 59 |
| 11 | Aleix ESPARGARO | 56 |
| 12 | Michele PIRRO | 36 |
| 13 | Andrea IANNONE | 29 |
| 14 | Hector BARBERA | 24 |
| 15 | Colin EDWARDS | 20 |
| 16 | Randy DE PUNIET | 19 |
| 17 | Danilo PETRUCCI | 18 |
| 18 | Ben SPIES | 9 |
| 19 | Claudio CORTI | 7 |
| 20 | Yonny HERNANDEZ | 7 |
| 21 | Alex DE ANGELIS | 5 |
| 22 | Karel ABRAHAM | 5 |
| 23 | Michael LAVERTY | 3 |
| 24 | Bryan STARING | 2 |
| 25 | Hiroshi AOYAMA | 2 |
| 26 | Javier DEL AMOR | 1 |