Bradl secures new contract at LCR Honda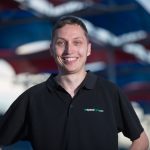 German MotoGP sensation Stefan Bradl has confirmed he will stay with LCR Honda squad for the 2014 season.
Speculation had been growing regarding the future of the 23-year-old at the satellite Honda team, but a deal to extend his stay has been struck ahead of this weekend's Red Bull Indianapolis Grand Prix.
The 2011 Moto 2 champion has made steady progress this season and has shown glimpses of true pace, most notably at Laguna Seca last time out, where he recorded his maiden pole position and best race finish of second. The result was his first podium in MotoGP's top category after making his debut in 2012.
With HRC also confirming they will continue to support the LCR squad, Bradl is pleased to have his future secured for another year.
" I can say that I will continue with LCR next year, with good support from HRC which is most important," he said.
"It's good for me and good for the team. I'm very happy with that. It is also good news for the second half of this season, going at the best speed we can and just trying to do the best job possible. Everything is sorted now and it's a great feeling.
"HRC's support was extremely important for me in my first season in the premier class and, with their direct cooperation, I achieved my first podium in the top class this year.
"I am happy to continue with the team because we know each other very well now and we have built a professional and friendly atmosphere in the team which allows me to be at 100% every race."
Bradl is lying sixth in the standings and hoping to continue his form before the summer break this weekend.