Baz wins red flag Silverstone finale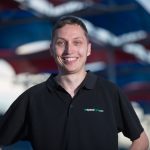 Frenchman Loris Baz picked up his second career World Superbike Championship victory as heavy rain brought a premature end to race two at Silverstone.
The Kawasaki rider led from the start but had to fight ever changing track conditions as well as Suzuki duo of Jules Cluzel and Leon Camier for the win.
Heavy rain with two laps remaining brought out the red flags and Baz was declared the winner from Cluzel, who had crashed out just as the red flag was deployed. Eugene Laverty was classified in third as he fought his way back from sixth to claim a second podium.
Sylvain Guintoli extended his points lead over Brit Tom Sykes as he finished just ahead of the Kawasaki man in sixth position.
Once again Laverty and race one winner Jonathan Rea made strong starts but it was Baz who would lead at the end of the opening lap.
Sykes also made progress in the early stages claiming second spot and he began to chase down Baz, who had scampered away from the pack.
A group of seven riders battling for the lead soon evolved and any mistakes were duly punished. BMW's Chaz Davies moved passed Laverty for third as he mounted a charge which resulted in the Welshman passing Sykes for second before taking the lead at Stowe.
Sykes' hopes of victory took a further dent as rain began to fall once again and he wasn't helped by Laverty running him wide costing him valuable positions.
The Suzuki's of Cluzel and Camier soon got in on the act and found themselves occupying second and third. Baz dropped back briefly which allowed Camier to pass Davies for the lead with six laps remaining.
He looked like he had the pace to win but a lunge from Sylvain Guintoli forced Camier to run wide and drop to sixth.
This gave Cluzel the opportunity to charge and he also passed Davies for the lead just seconds before the Welshman's BMW bike let go.
As the rain became progressively harder, Baz upped his pace and he dived under Cluzel for the lead. It proved to be the final overtaking move as the red flags were soon deployed due to the weather conditions thus declaring an early result with two laps left to run.
The red flags were welcomed by most of the field as Cluzel crashed his bike from second just moments before. Luckily he would not lose second spot due to the countback rule when a race is stopped.
Laverty somehow recovered to claim third ahead of Rea, who had started strongly.
Camier was left to rue what could have been in fifth in front of Guintoli and Sykes. Ayrton Badovini, Marco Melandri and Spain's Carlos Checa rounded out the top 10.
The World Superbike Championship heads to Germany's Nurburgring from Round 10 on August 30 – September 1.