Allerton strikes again with comfortable QR victory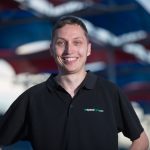 Glenn Allerton survived early pressure from Robbie Bugden to claim his third win of the season in the first of two Australian Superbike Championship races at Queensland Raceway.
The BMW rider has topped every session in the lead up to today's races and he made no mistake by producing a faultless ride to the chequered flag. Suzuki's Robbie Bugden seemed to have the pace to cope with Allerton in the early stages but he fell away as the race progressed. He eventually finished behind his team-mate Wayne Maxwell in third.
Allerton told Speedcafe: "It feels great to get another win under my belt. It was probably a hard way to do it. The bike is working really good and we will make a couple of changes to the bike this afternoon but nothing major. I didn't give them a sniff of the lead and that is the way I would like every race to go.
"I'm pretty happy with my performance this weekend as I really love this place and it has shown this weekend."
Allerton made a strong getaway at the start and headed into turn one ahead of Bugden, Maxwell and Team Honda's Josh Hook. It didn't take long for the front three to break away from the field and an entertaining dice began to unfold.
The Suzuki's of Bugden and Maxwell seemed to have the measure of the BMW ahead with just two tenths of a second covering the trio for several laps. Bugden came the closest to making a move for the lead but was unable to force Allerton into a mistake.
As the race developed, Allerton edged out a healthy lead while Bugden fell into the clutches of Maxwell. The Victorian eventually passed him for second with handful of laps remaining.
Arguably the most entertaining scrap was for seventh position featuring Beau Beaton, Linden Magee, Glenn Scott and Kiwi Sloan Frost. In the end it was Scott who came out of that battle victorious.
At the front nobody could stop Allerton from taking his third win of the season and extending his championship lead. Maxwell and Bugden completed the podium ahead of Team Honda's Hook and Jamie Stauffer.