Allerton edges Bugden to QR Superbike pole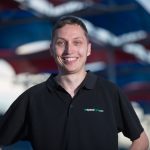 Australian Superbike Championship leader Glenn Allerton secured pole position by just a fraction of a second to maintain his perfect run at Queensland Raceway this weekend.
The NextGen Motorsports BMW rider had topped every session leading up to Superpole 3 but was pushed extremely hard by Suzuki's Bugden and Wayne Maxwell for pole. Just seven hundredths of a second separated the top three with Allerton snatching pole from Bugden by only three hundredths. Team Honda's Josh Hook and Jamie Stauffer were fourth and fifth respectively.
"I am pretty happy with how we ended up,"Allerton said. "The lap time we did probably isn't where we needed to be but it is a qualifying session and we came out on top so you can't be unhappy with that.
"The times we did yesterday are more conducive to the actual lap time we could do, but I didn't manage to get it out of the bike in that session. The track temperature dropped and I was a little cautious on the left hand side of the tyre.
"We will go into tomorrow event pretty confident and if I can get away on the first lap it will make life easier for me."
Allerton topped the first Superpole session and with only the top nine going through to Superpole 2, Beau Beaton, Sloan Frost, Sean Condon and Adam Senior all missed the cut. The quartet will fill positions from 10th to 13th on the grid.
He continued to shine in Superpole 2 which depleted the field to five riders who then fight for pole position in Superpole 3. Bugden set the pace from the start but it didn't take long for Allerton to light up the timing screens. He set a 1.08.643s which was two tenths quicker than Wayne Maxwell with Budgen third.
Team Honda duo of Hook and Stauffer moved into Superpole 3 in fourth and fifth positions. Linden Magee, Chris Hern, Glenn Scott and Ben Henry were eliminated. The quartet will cover positions sixth to ninth.
Bugden held provisional pole briefly in Superpole 3 before he was eclipsed by Allerton.
However, unlike previous sessions Allerton was pushed hard by the Team Suzuki pair.
As the laps passed the deficit to the New South Welshman decreased but he managed to hold on pole with a stunning lap of 1.08.710s.
Queensland Raceway will host two Australian Superbike Championship races on Sunday.