FIRST PICS: Jack's tribute to legendary dad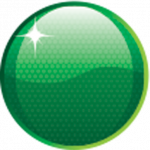 Jack Perkins will debut a tribute helmet design at the next round of the V8 Supercars Championship Series at Phillip Island.
Perkins, 24, the son of six-times Bathurst winner Larry Perkins, will wear a helmet scheme inspired by his legendary father.
After nearly 30 years using the same, simple paint scheme on his helmet, the famous green and gold colours retired with Larry after the 2003 Bathurst 1000 – his last V8 race.
Now, Perkins Jr has revived the scheme, celebrating 15 years since Larry's fifth Bathurst win – the 1995 Tooheys 1000.
"I've painted my helmet for the enduros this season in Dad's well-known green and gold colours," said Jack, who'll team up with Tim Slade in the #47 Wilson Security Racing Falcon FG.
"It has always been an idea of mine to follow Dad's design at some stage, but for a little while there I wanted to do my own thing, however green and yellow/gold has always been on my helmets.
"Dad's helmet never really changed from right back in his European days through to 2003 when he hung up the boots. But I chose to do it for this year in particular because it has been 15 years since both he and Russell Ingall won the Bathurst 1000 in 1995."
The '95 race was a classic. Perkins collided with Craig Lowndes on the startline after Lowndes moved over on him. The clash deflated his front left tyre and eventually put the car a lap down. Perkins and Ingall didn't give up, mounting a fight back that saw them take the lead with nine laps to go when Glenn Seton's Falcon failed. It was a great race – and a great win.
It was also the first time that Jack Perkins was introduced to the television world. When his Dad took the lead of the race at the end of a long, emotional day, the then nine-year-old was caught by the Seven Network's cameras in tears, watching his father create history.
Jack says today that the 1995 'Great Race' was an important part of his life.
"From a family point of view and indeed an historic point of view, the win that Dad, Russ and the family team had in 1995 was really quite special, and it's another reason why I wanted to celebrate and remember what they achieved that year," he said.
"Coming from last on the first lap with a punctured tyre, to winning the race was pretty cool. I enjoy watching the last 10-15 laps on YouTube, because it's very inspiring, emotional and motivating.
"Dad's never been one for milestones and anniversaries, but I enjoy the history of what he achieved and the family Perkins Engineering/Motorsport team. I told him what I'd done with this year's helmet and I think he'll be very pleased to see his helmet colours back on the track."
The green and gold colours are back, but it almost didn't arrive in time.
"There was a big delay in getting the helmets from the USA this year and it only turned up a week ago," he said.
"Antman, my helmet painter, did an awesome job to get it done in just four days. When I first rang him about getting a helmet done before Phillip Island he laughed and said "not a chance." I said to him wait until you see it, it will be one of the easiest ones to ever do. He's done a great job."
Jack says that the tribute design will be a permanent fixture on his head for some time.
"I've been through the stage of cool helmet designs, bright colours etc., so this will design will probably stay with me now for a long time," he said.
"It's clean and simple, and also helps with my personal supporters: Accu-Chek have been a great supporter of mine for three years now ,and it's great to welcome Adelaide Commercial Joinery on board for the two enduros this year. I'm thrilled to have great people behind me and very much looking forward to the enduros."
Perkins and Slade will conduct their final test in the Wilson Security Racing Falcon at Queensland Raceway tomorrow (Tuesday) before taking on the L&H 500 at Phillip Island (September 10-12).
See below for highlights of the 1995 Tooheys 100. See bottom for Speedcafe.com.au's Castrol EDGE Endurance Countdown, featuring Larry Perkins, speaking about the #47 Perkins/Slade entry.